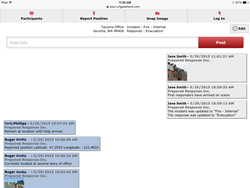 Our Rapid Responder system continues to evolve and be enhanced to support our 20,000 end user's needs.
Kirkland, WA (PRWEB) July 14, 2015
Prepared Response, Inc. has announced the release of a new integrated communication tool as an add-on feature to Rapid Responder®, industry leading emergency preparedness and crisis management system. The new feature, Easy Alert, is a browser based communication tool designed to be used in real time for both emergencies and non-emergencies between Rapid Responder users, site administrators and first responders. Easy Alert provides a simple interface allowing alerts to be sent out quickly and easily to designated contacts, empowering site personnel to promptly manage incidents. Once an Easy Alert event has been initiated the internal notification system allows a coordinated response for system users during high stress, crisis situations.
"Our Rapid Responder system continues to evolve and be enhanced to support our 20,000 end user's needs," says Jim Finnell, Chief Executive Officer for Prepared Response, Inc. "Providing integrated alert functionality is another way we can help our customers to provide a reliable and prepared response for both emergencies and non-emergency events."
As an incident develops at a school, healthcare facility, place of worship, airport, mall, etc., the details tend to evolve. With this in mind, Easy Alert was formed, allowing for prompt and simultaneous response from first responders and users. One of the most admirable features is that users have the ability to change the incident and response at any time. For example, a user could change the response from a lockdown to an evacuation as the event evolves, alerting first responders and enhancing safety. With Easy Alert, users also have the ability to post images and location based information, giving first responders more real-time information before entering a facility. Likewise, the ability to post locations of users can allow for a quicker response time. Current Rapid Responder system users are excited that Easy Alert is being offered as a free add-on and have reported how it will add to safety and security efforts.
"Easy Alert is the result of our end user's desire to have a fast and easy method to communicate during and event. Enhanced with the ability to share photos and geographic data allows for a more timely and accurate response," says Larry Lowry, Director of Development for Prepared Response, Inc.
The Easy Alert Interface is user friendly and features a navigation system built for mobile devices, including iOS, Android and Windows, but with desktop functionality in mind. Users can initiate an incident or drill in just one click. Additional information such as the initial event type and response can be filled in, but is not necessary. When an event or drill is initiated, internal users, site administrators and other designated responder agencies are alerted via email and text; participants can then add themselves in with just one click and are able to engage in the dialogue. After six hours of inactivity under the event or drill, the Easy Alert interface is cleared and the information is automatically stored under the ICS module in Rapid Responder. This allows system users and first responders to pull up the event or drill and use it for learning purposes, audit or even for facts based evidence.
Rapid Responder is SAFETY Act certified by the U.S. Department of Homeland Security and puts critical building and site information at the fingertips of first responders, saving valuable time when every second counts. The system can be accessed via the internet, installed on a laptop, stored encrypted on a USB drive, and/or iPad App. The emergency response and crisis management system has been used successfully in active shooter situations, bomb threats, lock downs and other emergency situations, across sites such as schools, hospitals, places of worship, and government buildings. It is currently deployed in over 16,000 facilities nationwide.
MEDIA CONTACT
FOR FURTHER INFORMATION, PLEASE CONTACT:
Prepared Response, Inc.
Samantha Caron
scaron(at)preparedresponse(dot)com
253.363.8561
ABOUT PREPARED RESPONSE, INC.
Prepared Response Inc. is the leading innovator of emergency preparedness and crisis management solutions in the nation. For over a decade, Prepared Response has provided industry leading technology and consulting services that have been proven to save lives and mitigate property damage. The company's flagship product, Rapid Responder, is used by over 1,300 public safety agencies nationwide and is SAFETY Act Certified by the U.S. Department of Homeland Security as a Qualified Anti-Terrorism Technology, along with being endorsed by the National Sheriffs' Association. Rapid Responder is currently deployed in educational facilities, public buildings, critical infrastructure and private facilities across the U.S.
The privately held company is headquartered in Kirkland, Washington. Additional information can be found at http://www.preparedresponse.com or by calling 1-866-862-7741.