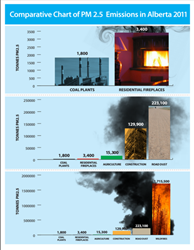 Our report "Burning Questions" exposes the faulty phase-out coal assumptions with evidence
Calgary, Alberta, Canada (PRWEB) July 14, 2015
CALGARY – An op-ed by economist Ross McKitrick and co-author Tom Adams in the Financial Post of July 10, 2015 entitled "Ontario's Job Killer: Business Sound Alarm over Soaring Electricity Prices" should be a warning for Albertans, says Friends of Science Society. In an April 11, 2013 Fraser Institute report entitled "Environment and Economic Consequences of Ontario's Green Energy Act," McKitrick forecast these consequences, which are largely due to Ontario phasing out coal and instituting renewables to meet the climate change policies of their Green Energy Act (GEA). Ontario's power prices have soared, consumers have suffered, and now business and industry find power prices untenable.
A May 30th, 2014 report in the Globe and Mail reveals "The long, slow decline of the industrial heartland" of Ontario struggling with the loss of manufacturing and jobs
Citing Ontario as a 'success,' a phase-out coal campaign has been underway in Alberta for the past two years, initiated by a report from the Pembina Institute entitled "A Costly Diagnosis" issued in 2013. Pembina claimed Albertans would save millions in health costs, because they claimed coal-fired power plant emissions were causing asthma and premature deaths.
Friends of Science say that's just not true.
Friends of Science warn Albertans against acting on ideology over the evidence, and point to their Jan. 2015 rebuttal report entitled "Burning Questions."
"Our report 'Burning Questions' exposes the faulty phase-out coal assumptions with evidence," says Norm Kalmanovitch, P. Geoph., project lead and co-author. "It would costs about $11 billion to switch from coal to natural gas according market experts like Evan Bahry."
Meanwhile, wildfires raging across Western Canada, as reported by CTV News July 9, 2015, show the folly of phasing out coal-fired power plants, when other emissions greatly surpass them, says Friends of Science
Kalmanovitch says, ""Further, pictures of pollution from the current wildfire situation show the obvious risk to health from the smoke but Alberta's coal fired power plants do not produce this visible smoke and therefore do not pose the risk to health that the smoke from wildfires does."
"In 2011, the fine particulate matter released from wildfires in Alberta alone was ~1,000 times that of coal-fired power plants; residential fireplaces released double the amount of coal plants. The current carbon particulate emissions - or soot - from wildfires, some 60-80% of which are caused by humans, far outweigh industrial emissions, too," says Kalmanovitch. "In our opinion the anti-coal campaign is a front for propping up the case for renewables. Otherwise, wind and solar make no sense as they are the most expensive and least reliable forms of power generation."
Some 75% of the electrical power produced in Alberta is used by industry; when power prices soar, as in Ontario, many industries shut down or move on.
All of Alberta's coal fleet use pulverized coal for more complete combustion. The province instituted stringent emissions restrictions over 20 years ago and the two supercritical coal plants in Alberta, Keephills 3 and Genesee 3, are considered to be among the most advanced in North America.
Alberta has hundreds of years of high quality coal reserves, much of it close to the surface where land disturbance is nominal. Reclamation is the law in Alberta; many former mine-sites have been beautifully restored as shown in the January 2011 publication by the Alberta Chamber of Resources entitled "Caring for the Land."
About
Friends of Science have spent a decade reviewing a broad spectrum of literature on climate change and have concluded the sun is the main driver of climate change, not carbon dioxide (CO2). Friends of Science welcome earth, atmospheric and solar scientists, engineers and citizens who challenge the alleged consensus on climate change.
Friends of Science Society
P.O. Box 23167, Mission P.O.
Calgary, Alberta
Canada T2S 3B1
Toll-free Telephone: 1-888-789-9597
Web: friendsofscience.org
E-mail: contact(at)friendsofscience(dot)org