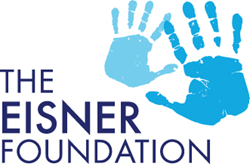 "The complex challenges that face the changing fabric of American society require innovative approaches that involve all of our society's participants," said Michael D. Eisner, founder.
Los Angeles, CA (PRWEB) July 14, 2015
The Eisner Foundation announced plans to dedicate its competitive grantmaking in Los Angeles exclusively to charitable programs that connect multiple generations to overcome society's most persistent challenges of inequality, lack of access, and injustice. With this evolution, the organization becomes the only U.S. foundation solely dedicated to funding intergenerational programs.
For nearly 20 years, The Eisner Foundation has supported innovative efforts to help low-income children and older adults in Los Angeles County. The foundation now plans to build on this commitment by adopting a funding model that identifies, cultivates, and celebrates programs that bridge multiple age groups. The foundation will redeploy its estimated $7 million in annual funding to Los Angeles-based programs utilizing intergenerational strategies, starting with its Summer 2015 grant cycle.
"By applying an intergenerational lens to our funding, we see an opportunity to generate even more transformative results from our investments," said Trent Stamp, Chief Executive Officer, The Eisner Foundation. "We believe that programs combining the strengths of each age group will have a multiplying effect—creating longer-lasting, positive change in our communities."
The Need for Intergenerational Programs
Los Angeles is ground zero for many of the challenges today's youth and older adults face across America, making the need and potential impact of programs focused on these populations even greater. Los Angeles County is home to one of America's:

Highest number of children in foster care (20,800)
Lowest education advancement rates (88 percent of high school freshman will not graduate from college)
Largest concentration of older people living in poverty (13 percent)
Highest rates of senior isolations and loneliness (30 percent)
"The complex challenges that face the changing fabric of American society require innovative approaches that involve all of our society's participants," said Michael D. Eisner, founder. "Whether it's an intergenerational community garden or an organization that engages college students to serve as caregivers to Alzheimer's patients, we aim to fund programs that not only break down the silos between the ages but benefit those they reach in reciprocal and life-changing ways."
Defining Intergenerational
In this context, The Eisner Foundation defines an "intergenerational" approach as one that unites multiple generations for the benefit of our communities. The foundation's grantmaking strategies under the realignment include not only funding Los Angeles-based organizations already operating intergenerational programs, but also identifying successful national intergenerational programs to replicate in Los Angeles. Investing in advocacy, public policy, and research that support the need for intergenerational programs, as well as developing and sharing best practices for nonprofits and foundations is a vital leadership role The Eisner Foundation will fulfill as it works hand-in-hand with its partners and grantees.
"We've purposefully embraced a broad definition of an intergenerational program in order to encourage innovation," said Jane Eisner, president of The Eisner Foundation. "Our new grantmaking focus enables us to support organizations that believe, as we do, that meaningful, cost-effective, and underutilized methods to combat issues of inequality and injustice are intergenerational in spirit, philosophy, and action."
The Eisner Foundation first identified the need for this funding area when it established the Eisner Prize for Intergenerational Excellence in 2011. The Eisner Prize has since recognized five organizations with effective, replicable intergenerational programs in communities across the U.S. In 2014, the Eisner Prize was awarded to Bridge Meadows, a unique intergenerational community in Portland, OR composed of adoptive parents, foster children, and low-income elders, and The Intergenerational Schools in Cleveland, OH, a learning environment that engages children and older adults in multi-age classrooms.
About The Eisner Foundation
Founded in 1996 by Michael and Jane Eisner and their family, The Eisner Foundation identifies, advocates for, and invests in high-quality and innovative programs that unite generations for the betterment of our communities. Giving over $7 million in grants annually, The Foundation supports and counsels exceptional nonprofit organizations working to create long-term impact in the Los Angeles community through intergenerational solutions. The Eisner Foundation envisions a just, inclusive, and thriving society comprised of generations working together for the benefit of all. To learn more about The Eisner Foundation and intergenerational solutions, please visit the organization's website at http://www.eisnerfoundation.org or follow us on Twitter or on Facebook.