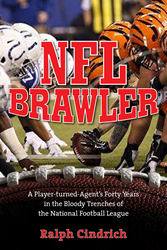 "Tape your ankles, put on your shoulder pads, adjust your helmet and get ready for an unforgettable ride that will take you behind the scenes with some of the biggest stories in pro football for four decades." -John Clayton, ESPN writer/NFL Analyst
Pittsburgh, Pennsylvania (PRWEB) August 03, 2015
The best fights in football happen behind closed doors. For nearly four decades, super-agent Ralph Cindrich has been one of the sport's most celebrated gladiators, winning one battle after another against the billionaire owners who control the NFL's ever-growing fortune. In all, he's negotiated more than a billion dollars of contracts and signed his name on too many deals to count.
Every one of those contracts has a story. And Cindrich's are legendary. In his new book, NFL Brawler, released by Lyons Press, Cindrich reveals all his unforgettable experiences.

He negotiated the deal for Bill Fralic - perhaps the best one ever in NFL history - with a cooler of beer and an elaborate plan involving a professional wrestler.
He once got into a drinking contest with Colts owner Bob Irsay, a man so universally hated that his own mother called him the devil.
And he was inches away from a fistfight with a Super Bowl champion coach, only to have the melee broken up by Cowboys owner Jerry Jones.
Those stories are just the beginning. Cindrich once worked on the Herschel Walker trade - the biggest swap in NFL history - and squeezed both of the owners involved to secure an unprecedented haul. He also caused repeated chaos with a number of high-profile holdouts, fueling some profanity-filled arguments with personnel men like Bill Polian and Bobby Beathard.
As an agent, Cindrich's life was never boring. But the bulk of his success was built with a long list of humble, high-character players who never seemed to grab enough headlines. Guys like Mark May, Al Toon, Will Wolford, Paul Gruber, Kent Hull, and many, many more. Cindrich shares their stories alongside his, spotlighting the humor, heroism, and the critical decisions of the football icons.
And yet, in a book filled with superstar players and unforgettable fights, the most interesting story might be Cindrich's own. He rose from a coal mining town once considered to be one of the poorest in the country to become a college football All-American and a seasoned NFL player who saw all of the game's pitfall's - concussions, painkillers, early retirement - appear painfully close. He stiff-armed all those obstacles en route to becoming one of the biggest power brokers in professional football. And through it all, he stayed true to his college sweetheart and the simple values instilled in the most meager of beginnings.
In NFL Brawler, Cindrich takes you inside his entire life, giving you front-row seats for his four decades in the NFL and all those legendary fights that the average fan never gets to see.
Crack open the cover and get ready to brawl.
The fights are about to begin…
Media members can contact publicist, Jessica DeFranco, at jdefranco(at)rowman.com to request a Review Copy. To interview Ralph, contact Matthew Vaughn at nflbrawler(at)gmail.com or 412-429-1250.
To purchase a hard cover or e-book: NFL Brawler
To purchase an audio book: NFL Brawler Audio Book
For more info, visit: https://nflbrawler.wordpress.com/