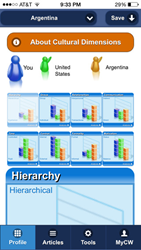 "CultureWizard Mobile offers a level of insight, detail and guidance with business travelers in mind, making them more productive and quickly able to relate to their surroundings, gain comfort and ultimately conduct business more effectively."
New York, NY (PRWEB) July 15, 2015
RW3 CultureWizard, a provider of online and face-to-face cultural learning tools for the global business community, today announced the launch of CultureWizard Mobile, a learning and training tool that allows anyone doing business internationally to quickly obtain cultural, social and basic business information for over 150 countries using an iPhone, iPad or an Android device.
CultureWizard Mobile was created by the founders of RW3, a training and consulting firm launched 15 years ago to help corporations and travelers increase their global business productivity by learning business habits and practices in foreign countries through online and in-person training courses, and now, via the mobile application. From Afghanistan to Zimbabwe, CultureWizard Mobile provides a vast catalog of unique information not found within typical travel guides, allowing the user to quickly obtain a level of comfort in their new environment.
"There's nothing else like it," said CEO, Michael Schell, "CultureWizard Mobile offers a level of insight, detail and guidance with business travelers in mind, making them more productive and quickly able to relate to their surroundings, gain comfort and ultimately conduct business more effectively."
There are dozens of online travel guides that provide basic country information – currency, language, weather, etc., but they hardly prepare you for a business meeting or presentation in a foreign country."
CultureWizard Mobile is ideal for business travelers, executives relocating to foreign countries, conference or event organizers with responsibility for hosting events in other countries and just about any company conducting business across borders. Users can access the app to learn about local communication habits, social etiquette, business protocols, popular phases and management styles. The app provides access to local maps, insightful articles and downloadable pocket guides for each country so users can access information without the need for Internet connectivity. CultureWizard Mobile also has value for the leisure traveler.
"RW3 was founded in recognition of the fact that conducting business in another country requires a knowledge of habits and customs and companies needed help familiarizing their employees with many cultural differences," said Charlene Solomon, President. "In many ways, CultureWizard Mobile is an extension of the services we've been providing to our clients and puts an unmatched depth of cultural information right at the user's fingertips in a cost effective way."
CultureWizard Mobile is currently available from the App Store on iOS and Google Play and is available by subscription only. One-week complimentary trials of CultureWizard Mobile are currently available upon request.
About RW3 CultureWizard:
CultureWizard is a complete online cross cultural training facility, containing cultural awareness e-learning courses, virtual team training, global leadership assessment tools, and culturally-focused country profiles on over 150 countries. CultureWizard customizes Learning Tracks to personalize the learning experience to the specific needs of each individual. Each learning track can be tailored to deliver to an organization's messaging and integrate with existing programs to maximize cultural sensitivity training. For more information, please visit http://www.rw-3.com.