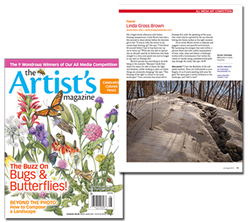 With mid-season events and awards coming fast and furious, Linda Gross Brown is showing no signs of a creative retreat.
Rocky River, OH (PRWEB) July 16, 2015
With the 2015 art season in full swing there is much for Linda Gross Brown to celebrate. Her European audiences were once again reminded of her artistic accomplishments when the French art magazine "Pratique des Arts" showcased her work in its April 2015 publication.
Recognition came swift and resolute when her submission of "Footsteps #12" was the winning entry in the pastel category in "The Artist's Magazine" All Media Art Competition. Her accomplishment will yield yet another published victory in the July/August issue, as the magazine features her and her work. With buoyant eloquence Linda speaks of her work as "harnessing the energies that exist within a picture frame and with careful manipulation of tone, color, value and subject, a landscape evolves with a luminescence that invites the viewer to wander along a predetermined pathway through the work." This remarkable grace in her creative process allows her to flawlessly execute - with almost preternatural expression - her stunning artistic poetry onto whatever canvas she chooses to inhabit.
With mid-season events coming fast and furious, Linda Gross Brown is showing no signs of a creative retreat. Her "Footsteps #10" has been selected by juror Stephen Westfall for inclusion in the 2015 Bowery Gallery National Competition to be juried later this month from July 28th - August 15th, while her "Footsteps #14" was a finalist in the Landscape category in the Art Renewal Center's "2014-2015 ARC Salon."
With a rare artist's instinct, Linda intuitively creates not just a body of work that will enthrall contemporary enthusiasts, but a legacy destined to captivate and mesmerize several lifetimes over. In a world where art can be defined and redefined moment by moment an authentic talent such as Linda Gross Brown's is made all the more rare.