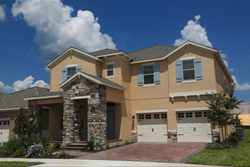 MAUMEE, OHIO (PRWEB) July 16, 2015
Fypon, a leader in the synthetic millwork industry, will once again shine the spotlight on the benefits of curb appeal for the home during the Second Annual "National Curb Appeal Month" celebration in August of 2015.
The month-long focus is dedicated to helping homeowners discover ways to add value and design appeal to their home's exterior. During August, Fypon provides curb appeal tips on their Facebook and Twitter pages along with extensive curb appeal information and color advice from national color expert Kate Smith of Sensational Color on the Fypon website.
According to the 2015 Cost Versus Value Study* conducted by Remodeling magazine, investments in a variety of exterior home improvement projects on a midrange priced home can have solid return-on-invest for homeowners. The study reports a garage door replacement has an 88.4 percent cost versus value recoup. Other curb appeal elements with strong payback for homeowners include:

Manufactured Stone Veneer - 92.2 percent
Vinyl Siding Replacement - 80.7 percent
Wood Window Replacement - 78.8 percent
Vinyl Window Replacement - 72.9 percent
Roof Replacement - 71.6 percent
"Updating home exterior elements is a smart decision for any homeowner," says JJ Rogers, sales operations manager with Fypon. "If you're selling your home, these updates add to the value and curb appeal of the house, helping potentially speed up the selling process and the sales price. And, if you're staying in your home long-term, these improvements are a good investment for the functionality of the home along with the curb appeal aspects that you and your guests enjoy on a daily basis."
3 C's of Curb Appeal
Homeowners wishing to increase the curb appeal of their homes should follow the "3 C's of Curb Appeal" identified by Fypon --- keeping home exteriors clean, clutter-free and colorful.
"During National Curb Appeal Month we recommend that people focus on yearly cleaning of siding, windows, concrete pavement and other elements of the home exterior," says Rogers. "It's also a great time to de-clutter the front of the home by trimming bushes, removing weeds and dead shrubs, taking away excessive yard art and making sure children's toys are put in the garage or behind the house."
For tips on adding color to the home exterior, Fypon offers advice shared by color expert Kate Smith of Sensational Color.
"Strategically placed 'pops of color' on a home exterior can make a huge difference in creating positive curb appeal," says Smith. "Whether it's window boxes filled with bright red geraniums or trim pieces in a striking deep green, colorful accents can really help a home stand out in the neighborhood.
"My advice is to add 'top down' color to the home to gain a cohesive and appealing exterior. Start with the roof color, then work your way down to the siding, trim, doors and landscaping. The colors should all complement each other. Even if you have a sedate color scheme, there's nothing wrong with shaking up a home with a warm, welcoming color on shutters and colorful landscaping."
Smith, who authored the free e-books"FRESH Home Exterior Colors" and "FRESH Color Schemes for Your Home Exterior," recommends that homeowners look at millwork and trim pieces as a primary way add color to a home exterior.
"Want to get your home noticed?" asks Smith. "Then add color to your louvers, shutters, brackets and mouldings. Paint them in a color that accents your home's siding and you'll really grab attention!"
Synthetic Curb Appeal Pieces
Lightweight Fypon pieces are ideal for adding curb appeal to the home. The company specializes in the production of low-maintenance trim including polyurethane window and door trim pieces, shutters, mouldings and decorative items. Porch posts, balustrade rail systems and louvers, column wraps and trellis systems are also available.
"An appealing aspect of curb appeal is adding products to the home exterior that require minimal long-term care," says Rogers. "With synthetic Fypon products, homeowners get durable pieces that are visually appealing and easy to paint, while resisting rot, decay, moisture and insects."
Tips for Adding Curb Appeal
As part of National Curb Appeal Month, experts at Fypon offer their top five tips for enhancing the exterior of the home:
1. Make your entryway more welcoming with an elegant door surround. Start with fluted pilasters on either side of the door and then top the door with a decorative pediment --- try a rams head, sunburst, acorn or peaked cap style.
2. Replace a rotting wooden porch system with a new structural balustrade system which includes porch posts, top and bottom rails, balusters and all the other pieces essential to create a great, weather-resistant porch.
3. Trim out exterior windows. Use crossheads for over a window and top with a solid, decorative or recessed panel keystone accent piece. On the sides and below the window, use moulding pieces with plinth blocks in the corners to eliminate miter cuts.
4. Replace older, rotting wooden louvers with low-maintenance polyurethane louvers. Functional louvers have a noncorrosive fiberglass screen backing to help keep insects out while allowing maximum airflow and ventilation to enter the attic.
5. Flank windows with easy-care polyurethane shutters. Choose from a selection of paintable white and stainable timber woodgrain shutter styles to complement any home exterior.
About Fypon
Fypon manufactures thousands of decorative millwork elements in a variety of architectural styles to enhance the interior and exterior of homes. Each piece is crafted from tough, weather-resistant, high-performance materials that are resistant to decay, insect infestation and water damage for long-lasting beauty and low maintenance. Part of consumer products company Fortune Brands Home & Security, Inc. (NYSE: FBHS), Fypon, LLC is owned by Therma-Tru Corp. For additional information, call 800-446-3040 or visit http://www.fypon.com.
###
*The 2015 Remodeling Cost vs. Value study results can be found at http://www.remodeling.hw.net/cost-vs-value/2015/. The Farnsworth Group, an online market research company, programmed and hosted the Remodeling Cost vs. Value Web-based survey.Resale value data for each project was aggregated from estimates provided by members of the National Association of REALTORS® in cooperation with REALTOR® magazine. An online survey containing project descriptions and three-dimensional illustrations, plus construction costs and median home prices for each city, was linked via email sent to some 200,000 appraisers, sales agents, and brokers. Respondents were instructed not to make judgments about the motivation of the homeowner in either the decision to undertake the remodeling project or to sell the house. The survey for this 2015 data was in the field for approximately 10 weeks between August and October, 2014. More than 6,500 NAR members participated.