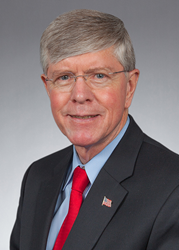 Denver, CO (PRWEB) July 15, 2015
Holland & Hart announces the launch of a new blog, GovCon Insider. The blog will provide the government contracting community with timely articles on subjects ranging from bid protests, contract suspensions and debarments, to programs for small businesses and cybersecurity. The blog can be found at http://www.governmentcontractinsider.com.
Charlie Lucy, who leads the Government Contracts (GovCon) team, points to a 2014 federal procurement budget of $443.2B and grant program of $589.1B as two big reasons that clients need to pay attention to government contracting. With this in mind, Lucy says the group is focused on two goals: "We want to make Holland & Hart the 'go-to' firm in the Rocky Mountain West, leveraging a robust Washington, D.C. presence, to serve the needs of clients who are doing business with the federal government. We are also proactively sharing with our clients and within the firm the talents and services of our GovCon team. Our attorneys bring a holistic industry approach to helping clients identify, exploit, and preserve their federal, state, and local government contracting opportunities."
Recent posts on GovCon Insider include:

Cybersecurity for Federal Contractors in a Time of Divided Government
Supreme Court Resolves False Claims Act Limitations Issues
Contractor's Failure to Join OHA Appeal Leaves it Unable to Compete for Contract
Sweeping SBA Changes May be on the Horizon
Holland & Hart's Government Contracts group provides clients with a unique perspective gained from the team's extensive experience with previously held positions at the U.S. Department of Justice, the Air Force, and major technology companies. With 15 offices across the United States, including in Washington D.C., the firm's nationwide reach allows its attorneys to provide top-tier government contracts support to its clients. Clients hail from a broad range of industries, from aerospace and software to construction, healthcare, energy, UAV technology, and cybersecurity. The team includes experienced bid protest and claims litigators; sophisticated corporate, transactional, and intellectual property lawyers; and registered patent attorneys.
###
About Holland & Hart
Holland & Hart LLP delivers integrated legal solutions to regional, national, and international clients of all sizes. Since its inception in 1947, Holland & Hart's approximately 500 lawyers have consistently been recognized by leading national and international peer and industry review organizations for innovation and dedication to the practice of law. For the fifth consecutive year, the firm was named to BTI Consulting's list of Most Recommended Law Firms by corporate counsel. For more information, visit http://www.hollandhart.com.