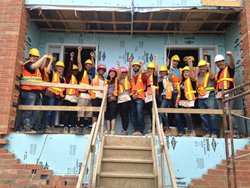 "With the ability to help out a great organization like Habitat for Humanity, the experience was extremely positive, and even though we only participated in the one day, we truly felt like we made an impact." -Karoline Lapko, Vice President, Jonas Premier
Markham, Ontario (PRWEB) July 17, 2015
While this experience provided Jonas Premier with an opportunity to enhance their team building, they also attained a unique perspective on the construction industry. As Karoline Lapko, Vice President of Jonas Premier states, "Through participating in the Adopt-a-Day Program with Habitat for Humanity GTA, our team had the opportunity of seeing first-hand what our clients do on a daily basis, which really opened our eyes to the amount of work that goes into completing a project. With the ability to help out a great organization like Habitat for Humanity, the experience was extremely positive, and even though we only participated in the one day, we truly felt like we made an impact."
A 2013 CMHC survey of Habitat for Humanity families, surveying 326 families who have received Habitat homes since 2000, demonstrates affordable homeownership is an effective tool for economic and social advancement:

89% say their family life has improved.
86% report being happier since moving into their Habitat home.
70% report improved health including reduced colds and flu, allergies, asthma symptoms and stress.
65% report their children's confidence has improved.
58% report they are better off financially now than before they moved into their Habitat home.
Members of the Jonas Premier team also found the experience to be rewarding, as Dina states, "Habitat for Humanity is more than just providing shelter for people, it's also about providing hope on the inside. This experience gave me an entirely different outlook on how important it is to help break down the cycle of poverty. A tremendous amount of work is put into completing a project and I am thankful to have had the experience to see first-hand what our clients do on a daily basis, as well as helping out a great organization."
About Jonas Premier
Jonas Premier is a fully integrated, cloud-based construction accounting software solution ideal for General Contracting businesses. Running in the cloud, it provides you with the ability to access and input key business information anytime, anywhere. It is built on modern software architecture, fully flexible and is simple to use. The complete offering for contractors includes: Accounting, Job Cost, Subcontract Management, Billing, Progress Billing, T&M Billing, Financials, Project Management, Bank Management, Purchase Order, Inventory, Time Entry, Integrated Document Storage, Field Mobile Apps, and Vendor and Customer Portals. For more information, please visit http://www.jonasconstruction.com.
About Habitat for Humanity GTA
Habitat for Humanity Greater Toronto Area (Habitat GTA) is a non-profit housing organization that mobilizes volunteers and community partners to provide affordable housing and promote homeownership as a means to breaking the cycle of poverty. Founded on Christian principles, we welcome all people without discrimination to join us as we build simple, decent, and affordable homes in partnership with low-income families. By owning their own home, families are able to achieve greater stability, and improve their overall health, while building equity for their future. To learn more about Habitat for Humanity GTA, please visit http://www.habitatgta.ca.