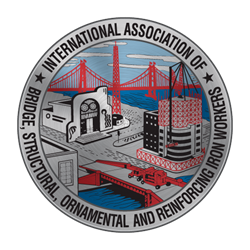 "The Iron Workers are looking forward to building and continuing to establish a strong relationship with builders in the Gulf Coast," says Iron Workers General President Eric Dean.
Freeport, Tx. (PRWEB) July 16, 2015
Dow Chemical, piloting a workforce initiative with the Iron Workers and Fluor, is celebrating improved safety, productivity and quality on their Oyster Creek Propylene Dehydrogenization (PDH) unit expansion project.
Dow Chemical's investment creates 400-500 permanent jobs and will bring significant economic benefits to the US Gulf Coast. The new plants produce chemical building blocks for thousands of products used every day. At the peak of construction manpower, Dow initiated the pilot with Fluor, and the Building Trades mobilized just under 200 ironworkers and pipefitters to the project. The goals of the pilot were to demonstrate the ability for a project to work merit shop, without disruption or segregated site facilities, and to showcase the safety, quality and performance of the union craft labor. For the ironworkers this was a return to the site where they previously supplied the labor to Mammoet for the equipment transportation from the Freeport port to the site.
For the project, the pilot was a success. The Ironworker and Pipefitter crews worked alongside the open shop crews without disruption – without a single safety incident – and reached the top quartile of productivity after the first month on site. The costs of the Building Trades' crews were less than or equal to the cost of the open shop crews. Dow has said they would use the Building Trades' workforce again.
The Texas Operations facility is Dow's largest integrated site and is composed of three major complexes: Plant A, Plant B and Oyster Creek. More than 40 percent of Dow's products sold in the U.S. and more than 20 percent of Dow's products sold globally are manufactured at the Texas Operations facility. Fluor is performing engineering, procurement and construction for the new facilities.
"The Iron Workers are looking forward to building and continuing to establish a strong relationship with builders in the Gulf Coast," says Iron Workers General President Eric Dean. "We are proud to attract, train and deliver the best ironworkers in the world, and the results of this ongoing project are a testament to the productivity and professionalism displayed by our world-class ironworkers."
###
About Iron Workers
Founded in 1896 in Pittsburgh, Penn., the International Association of Bridge, Structural, Ornamental and Reinforcing Iron Workers (Iron Workers) represents ironworkers throughout the United States and Canada. By improving the working conditions of its members and promoting constructive relationships with their employers, the Iron Workers delivers powerful solutions to increase skilled craftsmanship opportunities in the construction industry. http://www.ironworkers.org