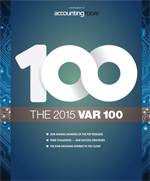 "We ... find that creating custom solutions for our clients pleases us just as much as it delights them."
York, PA (PRWEB) July 17, 2015
Stambaugh Ness Business Solutions (SNBS) announces its inclusion on Accounting Today's 2015 list of top 100 value-added resellers (VAR). The Top 100 Value-Added Resellers are chosen from organizations specializing in the sale and implementation of Enterprise Resource Planning (ERP) and accounting software.
This year's list provides a deep look into the successful strategies used by the technology consultants and resellers on this ranking. Additionally, this year's discuss their recent challenges, changing client expectations, and the impact the cloud is having on all businesses.
"We are very excited to be included on this Top 100 VARs list," said Steven Hake, Managing Partner of SNBS. "We have strategically positioned ourselves as a leading value-added reseller to deeply support the needs within the professional services space. We are proud that our clients benefit significantly from our consulting services and our ability to assist them with a full suite of service offerings. We consider ourselves to be partners in their stability and growth and find that creating custom solutions for them pleases us just as much as it delights them."
The selection is based on annual revenue generated by each reseller. A special report that includes names of the organizations selected for this year's Top 100 list, ranked by revenue, is downloadable at http://www.accountingtoday.com.
About Accounting Today
Accounting Today is a trade magazine servicing the public accounting profession in the United States. The parent company of Accounting Today is SourceMedia, the publisher of more than 30 periodical brands including several major financial magazines.
About SNBS
Stambaugh Ness Business Solutions is a leading Technology Consulting company, and its Acuity Business Solutions Division is an award-winning Deltek Premier Partner that demonstrates excellence in marketing, selling, implementing, and supporting Deltek solutions.
In addition, SNBS is a Microsoft Partner, offering technology solutions that encompass Network Support and Outsourced IT, and many cloud-based solutions. SNBS is an affiliate of Stambaugh Ness, PC, CPAs / Business and Technology Advisors, a national firm based in York, PA which is also an independent member of the BDO Alliance USA.