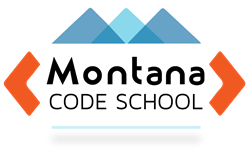 Missoula, MT (PRWEB) July 21, 2015
The Hellgate Venture Network, in collaboration with Goodworks Ventures and the America Campaign, is excited to announce applications are open for selection of the initial cohort for the newly developed Montana Code School. The Montana Code School, located in Missoula, Montana, addresses an acute and immediate need among Montana startups and technology businesses for junior programmers with the inaugural class starting Fall 2015.
The Montana Code School, a community-driven initiative, has been designed to expand the pipeline of programming talent available to Montana businesses by taking individuals with little or no programming skill and developing them into junior dev level recruits over a 12-week period.
Hellgate Venture Network Co-Founder, Paul Gladen says "The program is now accepting applications for the first cohort of approximately 25 students to begin this Fall. The School is actively encouraging a diverse pool of applications, from Montana and beyond, with a particular focus on women, Native Americans and veterans."
The Montana Code School plans to run at least four 12-week cohorts in 2016 to add over 100 new programmers to the Montana coder talent pool. The program, modeled after numerous coding boot camps operating in other tech and startup hubs around the world, complements other coding related programs by offering intense, hands-on development and mentoring. Montana Code School graduates will be prepared to enter junior programming roles that do not require the depth of skills and knowledge delivered by two- or four-year computing and IT related degree programs.
Program fees are set at $8,000 with scholarships and financing available. Graduates of the program will have the opportunity to pursue high-paying career opportunities with Montana businesses for an attractive return on investment. According to a profile of Montana's High Tech Industries complied by the Montana High Tech Alliance in February 2015, high tech and manufacturing wages are twice the median earning per Montana worker.
In addition, the Montana Code School is developing partnerships with many of Montana's technology businesses and entrepreneurial organizations who have a keen interest in 1) mentoring participants and 2) recruiting directly from the program. Current partners include Submittable, The Audience Awards, SnapApps, Agile Data Solutions, Orbital Shift, Adventure Life, First Interstate Bank, MonTEC and the Missoula Economic Partnership. Several potential recruiters have also indicated a willingness to pay off loans or reimburse fees for Montana Code School graduates who remain with the employer for a specific period of time. The school is extremely interested in exploring partnerships with other Montana businesses keen to support or recruit Montana Code School participants.
For further details, visit http://www.montanacodeschool.com
The announcement has been widely welcomed by leaders across the state:
Montana Governor Steve Bullock "Entrepreneurs and innovators recognize that Montana is a state where they can make their ideas reality. One of the top priorities of my Main Street Montana Project is ensuring our state has the workers with the skills necessary to fill the jobs these folks create. The Montana Code School will help build a workforce that can compete for the high-paying jobs in this growing employment sector. And by building on our pool of talented and trained workers through this program, Montanans from all walks of life will benefit from increased economic activity in our state."
Senator Tester "The Montana Code School will allow some of our state's brightest minds to develop technology start-ups and help grow existing business. I will continue to work with Blackstone LaunchPad to develop the next generation of Montana entrepreneurs and ensure that folks who are starting a business in the Treasure State have access to the resources they need to succeed."
Senator Steve Daines: "Working at RightNow Technologies, I experienced firsthand the opportunity that technology gives us to grow good paying jobs right here in Montana. Technology has removed geography as a constraint and allowed Montana¹s high-tech sector to grow, and in doing so, allowed more Montanans to find good paying jobs in the state that they love," said Senator Steve Daines. "The Montana Code School will help create more opportunities in this growing industry and is a great investment for our students and for our state. As the Montana Code School launches its inaugural class this Fall, I will be co-hosting the first biannual Montana High Tech Jobs Summit in Bozeman, where we will bring together tech and business leaders from across the country to examine how we can continue to grow good paying technology jobs here in Montana. I'm proud of this important work being done to prepare our students for high-tech jobs."
Adventure Life founder and CEO, Brian Morgan: "We recently advertised for a web developer and received no applications from within Montana. We urgently need more developer talent to support Montana businesses, like Adventure Life, with their technology needs."
Joel Henry, Founder of Agile Data Solutions: "Agile Data Solutions draws upon a variety of programming skills and experience levels in developing our technology and serving our clients. The Montana Code School will make an invaluable contribution to our growing recruitment needs"
The Audience Awards founder and CEO, Paige Williams: "Our ability to grow is strongly correlated to our ability to hire tech talent that is excited about the opportunity of building great technology businesses in Montana."
Jennifer Stephens, Manager of the Blackstone LaunchPad at the University of Montana: "Help in identifying programmers is one of the most common requests from students and alumni that we work with in the LaunchPad. We're excited by the opportunity the Montana Code School offers to create more programming talent and for the entrepreneurs we work with to potentially develop their own coding skills."
James Scott, Assistant Vice President, First Interstate Bank: "First Interstate Bank has always been committed to supporting the entrepreneurial spirit of our state. Sponsoring the Montana Code School will further these efforts by providing a quality knowledge base of programming skill right here in Montana."
Dawn McGee, CEO of Goodworks Ventures: "We are very excited about this cross community partnership that will allow us to grow more talent and jobs in Montana".
Jenn Ewan, Director of Entrepreneurship & Special Projects, Missoula Economic Partnership: "The Montana Code School is a welcome addition to individuals and companies looking to do business in Missoula and its surrounding areas. It will provide a very quick solution for those companies seeking developers and coders fluent in the coding language their organization uses. Often, companies are looking outside of Montana to find the talent they immediately need, and the Montana Code School will help find in-State talent, in addition to providing well-paying jobs for those who would like to stay in Montana. Coupled with the other efforts at the University of Montana, the Missoula College, and the Bitterroot College in the Data Science space, Missoula and the Bitterroot Valley is shaping up to be a place where companies can hire talent at the entry-level with the Montana Code School, obtain a Big Data Certificate at UM, and eventually obtain a Masters Degree in Data Science at the University of Montana. The Missoula Economic Partnership is very excited about the Montana Code School"
"Montana High Tech Business Alliance members consistently name access to skilled technology workers as one of their biggest barriers to growth," said Greg Gianforte, Board Chair of MHTBA and Founder of RightNow Technologies in Bozeman. "We applaud this effort as a potential new source of qualified talent to fuel a sector that is growing 8 to 10 times the overall Montana economy."
MonTEC CEO, Joe Fanguy: "MonTEC is excited to partner with the Montana Code School. The provision of new programming talent will complement MonTEC's ongoing role and the services we provide to help our startup and tech communities grow"
Kevin O'Reilly, Founder of Orbital Shift: "Rapid growth in selling our online time clock and employee scheduling software across North America, has increased our workforce needs. The opportunity to include more fellow Montanan's, instead of looking out of state, to our development team is truly exciting."
Austin Habich, Director of SnapApps.com: "Writing custom software requires a specific set of expertise, and finding individuals with such a skill set can be a daunting tasking. Having the Montana Code School will help grow the Montana developer community and give local businesses the opportunity to recruit great talent. I look forward to seeing the quality students the Montana Code School will produce."
Michael FitzGerald, co-founder and CEO of Submittable: "Montana Code School…. We're in!"