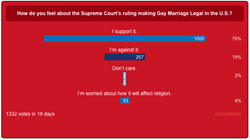 75% of the 1,332 Americans voting in the poll support same-sex marriage, while 19% are against it, with 2% apathetic and 4% "worried about how it will affect religion
San Francisco, CA (PRWEB) July 15, 2015
WorldReligionNews.com wanted to use our site traffic, search and social media to determine how Americans truly feel about the issue of same-sex marriage in light of the Supreme court ruling by running a poll to determine such. To do so, WRN wanted to gather the votes of at least 1,200 people from around the U.S. to generate a sample set significant enough to be statistically representative of opinion. (As of this writing, 1,332 people have responded to the poll.)
METHODOLOGY

A poll plugin was selected and configured from poll-maker.com.
The poll was embedded within the WRN "Polls" page, at http://www.worldreligionnews.com/polls/, which was minimally search engine optimized.
*The poll was linked from the header of every WorldReligionNews.com page with a call-to-action to partake in the poll.
*The poll was pushed organically to WRN's Facebook and Twitter pages.
*The specific Facebook poll post was boosted via paid Facebook advertising targeting U.S. citizens interested in same-sex marriage and closely related issues.
THE RESULTS
75% of the 1,332 Americans voting in the poll support same-sex marriage, while 19% are against it, with 2% apathetic and 4% "worried about how it will affect religion."
The multiple Facebook and Twitter same-sex marriage poll posts generated approximately 400 combined comment responses, many of which were much more divisive than the poll results themselves, embedded below. The Book of Leviticus was repeatedly brought up by commenters defending same-sex marriage as a tool to confront their observation that Christians selectively live and enforce biblical laws.
Given the very visible heated controversy over the Supreme Court Same-Sex Marriage ruling, and the fact that this poll was residing on a religion news site, we at WRN were quite surprised by the overwhelming support for same sex marriage.
We hope that these results contribute to a continuing national dialogue on how best to integrate and navigate this new Supreme Court mandate into the fabric of society and religion.
View the poll here: http://www.worldreligionnews.com/polls/
About WorldReligionNews.com
WRN covers the religion news generated by all major world religions, A to Z, from Agnosticism to Wicca and all in between, in ways that strive inspire, enlighten, entertain & engage within a framework wired for a connected and distracted world.