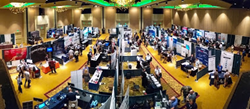 There is no other place an organization concerned about Cyber and Information Security matters can go to get virtually free training...
Roseville, CA (PRWEB) July 17, 2015
The High Technology Crime Investigation Association (HTCIA) announces the deadline is fast approaching for the start of the 25th Annual High Technology Training Conference and Expo, being held for the first time in Florida, from August 30 through September 2, 2015, in Orlando at the Rosen Shingle Creek Hotel.
Ronald J. Wilczynski, 2015 HTCIA Marketing Chair for the conference and past HTCIA International President, explained: "As a member of HTCIA for over 24 years, there is no other place an organization concerned about Cyber and Information Security matters can go to get virtually free training, when you add the registration fee and subtract the value of free software, meals and the fair market value of our non-profit training. We work very hard to identify and invite industry subject matter experts as presenters and our Expo brings some of the top businesses in the High Technology world together under one roof."
Mr. Wilczynski continued, "Expect to see classes such as Vehicle Forensics, Registry Analysis, Introduction to Ethical Hacking and SQlite is the Devil. Of interest to CIOs would be classes such as Advanced Penetration Testing, 2014 – Year of the Retail Breach, and A Better Way to Communicate in Fast Moving Investigations, all of this just on the first day of the conference. I highly encourage a visit to the website at HTCIAConference.org to view the course offerings and to register before the last rate increase"
For the first time ever, HTCIA will host a Golf Tournament that will benefit the Red Circle Foundation. This foundation is a rapid funding force that responds within hours to help military families of fallen and wounded U.S. Special Operations heroes who are in need, and provides scholarships for their children. Many charities that serve the Special Operations community can take weeks or months to deliver funds. This Foundation acts within minutes to provide immediate assistance to bridge the funding gap.
Wilczynski added, "As retired federal agent who has worked in the Middle East in a hazard duty station, I know all of us have been touched and have benefited from the sacrifice our wounded veterans have endured. This year we have former navy SEAL Brandon Webb presenting as a keynote. HTCIA Conference Chair and 1st VP Peter Morin committed part of these conference efforts towards supporting our wounded heroes. If you are anywhere near the Orlando area and can find time to contribute to a worthy cause and also have fun networking, come out and support the golf tournament."
For more information on this event, contact info(at)htciaconference(dot)org. For information concerning sponsorships or the expo contact Carol Hutchings at carol(at)htcia(dot)org, (916) 408-1751.
About HTCIA
HTCIA is a 501(c)3 non-profit professional organization founded over 29 years ago for the purpose of educating individuals involved with high technology investigations. HTCIA continues to solidify its position as the leader within law enforcement and the corporate world for the prevention, investigation, and prosecution of crimes involving advanced technologies.
Contact:

General event inquiries – info(at)htciaconference(dot)org
Sponsorship inquiries – sponsorship(at)htciaconference(dot)org
Speaker inquiries – speakers(at)htciaconference(dot)org