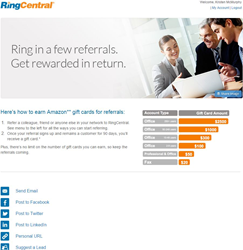 "While our program was successful before, Amplifinity has increased our effectiveness and efficiency by solving a lot of small, nagging problems. Now we can focus on making referrals an important part of the growth here at RingCentral."
ANN Arbor, Mich. (PRWEB) July 19, 2015
Amplifinity, the global leader in technology-driven referral automation software, announced today that RingCentral, a leading provider of cloud business communications solutions, have chosen the Amplifinity platform to build, automate, and manage their customer referral program.
Before deciding to work with Amplifinity, RingCentral had a successful in-house, self-built referral program, but needed to evolve the automation, integration, and scaling needs as the company grew. Extensive academic research shows that referred customers are more profitable, more loyal, and have a lower acquisition cost paired with higher lifetime value. The marketing team at RingCentral wanted to implement a fully automated and integrated referral system in order to increase customer and prospect engagement while also increasing demand generation quality and quantity.
Amplifinity's referral automation software allows its customers to accurately manage rewards, market to their advocate base, close the sales loop, drive testimonials, share new products and quantify the full value of referrals to their business. These programs result in measurable increases in leads, customer loyalty and new customer acquisition, creating a powerful sales and marketing channel. Moreover, Amplifinity fully integrates with common SaaS platforms, including Salesforce and Marketo.
"Amplifinity brings automation, and ease to a referral program we've been running for years," said Mark Brier, Director of Upsell and Referral Marketing at RingCentral. "While our program was successful before, Amplifinity has increased our effectiveness and efficiency by solving a lot of small, nagging problems. Now we can focus on making referrals an important part of the growth here at RingCentral."
"RingCentral is a high-growth and incredibly savvy SaaS firm, and so they have high expectations of functionality, ease of implementation, reliability, and effectiveness," said Larry Angeli, CEO of Amplifinity. "We're pleased we're able to deliver on all fronts so we can help referrals play a bigger role in increasing sales in 2015 and beyond."
About Amplifinity
Amplifinity's referral amplification software turns customer, employee and partner advocacy into revenue. Our platform provides complete referral tracking and management with 100% accuracy so none are missed. Enterprises like ADT and DirecTV trust Amplifinity to enable high-quality acquisition while providing an engaging, fully-branded experience for their advocates. http://www.Amplifinity.com