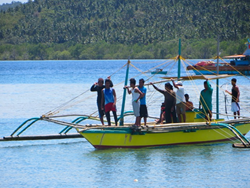 With these latest programs, CFHI demonstrates its commitment to introducing unique global health topics and unparalleled learning opportunities to its students.
San Francisco, CA (PRWEB) July 19, 2015
Child Family Health International (CFHI), a nonprofit organization that has provided transformative global health experiences to over 8,000 participants since 1992, today announced its expansion into Ghana and the Philippines, increasing the organization's scope to over 30 Global Health Education Programs in 9 countries. These new programs will cater to undergraduate and graduate students looking to explore health and medicine in an international, English-speaking setting. Staying true to its mission and values, CFHI has teamed up with local health professionals in-county who will mentor CFHI Global Health Scholars throughout their rotations, introducing them to the local culture and healthcare system, as well as key public health issues.
Students can choose from two innovative new programs in Ghana—"Child Health & Social Determinants" and "Hospital Medicine in Coastal Ghana." In the bustling capital of Accra, CFHI Global Health Scholars gain exposure to local efforts to reduce infant mortality rates and improve the overall health of the nation's pediatric population. In the historical fishing town of Cape Coast, CFHI Scholars rotate alongside local health care workers at a tertiary hospital serving as the main source of healthcare services for surrounding coastal communities. Throughout these rotations, students will improve their understanding of broader social determinants of health and the challenges of providing care in limited-resource settings. "Child health is an important proxy for health systems, access, and health equality across a society. This program will showcase the determinants of child health and aspects of hospital medicine within and beyond clinical walls in order to explore the human condition," observes Dr. Jessica Evert, CFHI Executive Director.
CFHI's third new program, "Remote Island Medicine in the Philippines," is the first of its kind to explore how health services and resources vary between the mainland and remote islands. Nick Penco, CFHI Associate Director for Latin America and New Partnerships explains, "The young and passionate on-site partners and the thousands of niches among the 7,000 islands make the experience unique and exclusive to the country." Leading the program on-site is local expert Dr. Joel Buenaventura, recipient of the prestigious John Snow, Inc. Award in International Health. Dr. Buenventura is Chief Health Program Officer for the Department of Health and has served as a rural health physician for the past seven years.
With these latest programs, CFHI demonstrates its commitment to introducing unique global health topics and unparalleled learning opportunities to its students. Its programs foster well-rounded health professionals who are equipped to serve diverse patient populations and respond to current global health challenges that transcend borders.
###
Founded in 1992, CFHI (http://www.cfhi.org) is a non-government organization (NGO) operating at the grassroots level to provide transformative global health education experiences and community empowerment in underserved communities around the world. CFHI offers 30+ Global Health Education Programs designed to broaden students' perspectives about global health - as well as a variety of community health initiatives and projects - in developing countries including Bolivia, Ecuador, India, Argentina, Mexico, Uganda, South Africa, Ghana and the Philippines. More than 8,000 students have participated in CFHI programs to date. CFHI has been granted Special Consultative Status with the Economic and Social Council of the United Nations (ECOSOC).