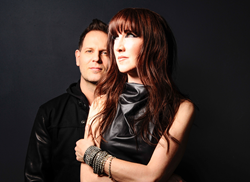 The Year of the Groove has been immensely challenging and rewarding. I never imagined we could accomplish so much in 12 months.
Nashville, TN (PRWEB) July 20, 2015
If you look up "overachiever" in the dictionary, you may not find a photo of Worldwide Groove Corporation, but they certainly epitomize the very definition of that word. In a span of 12 months, Worldwide Groove Corporation put out a total of 13 individual music releases, increased their social media following tenfold, gave 16 interviews, landed on compilations and a magazine cover in Europe, helped promote ballot initiatives in 2 states, started a global social media movement, and got featured on Huffington Post. And the most mind-blowing part: this was all just a side project.
Beginning in July 2014, Worldwide Groove Corporation, comprised of Ellen Tift and Kurt Goebel, kicked things off by simultaneously putting out two singles: an electronic chillout reconstruction of the Gershwin classic "Summertime" and their angst filled epic electronica original "Come To Me." Their August release "Kiss Me Slow" was a slow and steamy original dubbed their "sexy monogamy song." In September, their metaphorical dubstep song "The Legend of the Fall" caught the attention of the Oregon Right to Know organization, and WGC partnered with them and Right to Know Colorado to promote their ballot initiative for the labeling of genetically modified foods.
Worldwide Groove Corporation then launched the Supermodel Astronaut Challenge around their October release, the quirky electropop song "Supermodel Astronaut." This social media event was sparked by their Supermodel Astronaut music video, and involved people as far away as Europe, Australia, and the Middle East. The social movement caught enough momentum to gain coverage by Huffington Post and Nashville news stations. Included in their October release was a bonus track of their hip hop tune "Freak the Beat," which was featured on TV ads for Grey's Anatomy and Scandal on ABC.
While the Supermodel Astronaut phenomenon was still in high gear, they put out their November release called "Flow," an EP of mainly instrumental chillout tracks. They wrote a brand new sweetly sentimental Christmas song called "When the Holiday Brings You Home" for December, and started 2015 with their January release "Glitter & Bliss," a metaphorical chillout tune, one of their best received tracks in the collection. From February to May, they impressively released 12 more tracks ranging from cool chillout to haunting epic electronica. And finally in June, they ended the Year of the Groove with a stunning show of diversity in their maxi-single of "Make Me Free." This release offers up 5 completely different versions of their original song, in the styles of deep house, chillout, melodic dubstep, electro, and an acoustic piano/cello ballad.
In all, WGC put out 32 tracks for this "side project." "The Year of the Groove has been immensely challenging and rewarding," says Ellen Tift. "I never imagined we could accomplish so much in 12 months. We actually had to take on more music production work from our clients to be able to afford this endeavor, so we were working quadruple time for a whole year." Worldwide Groove Corporation have been in the music production business for many years, and both members have jobs on top of their indie music releases and working for their own clients. Kurt Goebel works as creative director for iv Audio Branding, and Tift is an adjunct instructor of commercial music composition at Belmont University.
So now that the Year of the Groove is complete, what's next for WGC? "More work, and hopefully a little down time," says Goebel. "We've already written and produced another song for a pitch opportunity just this past week. As long as opportunities exist, we've got work to do."
For more information about Worldwide Groove Corporation, go to their website and join the mailing list to stay updated.
About WGC: Worldwide Groove Corporation are Kurt Goebel and Ellen Tift, specializing in electronic pop and downtempo chillout music production, string arranging, and remixes. Their music has been featured on national television shows, in independent films, and used in major brand advertising campaigns in the U.S. and Europe. Both members of WGC have a Master of Music degree in Media Writing and Production from the University of Miami in Coral Gables, FL. See their full bios on their website.