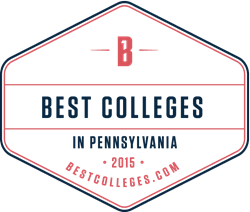 Houston, TX (PRWEB) July 20, 2015
The most recent lists to come from the minds and methodology of BestColleges.com rank Pennsylvania's top 25 two-year and top 25 four-year schools. Giving equal consideration to universities and community colleges proves, once again, that this site is tuned in to the needs of students faced with rising tuition costs and the pressures of obtaining a quality education.
"Pennsylvania has some of the highest in-state tuition prices in the nation," said Ryan Gleason, editor-in-chief, "but many of the two-year schools on our list are part of articulation agreements that make it possible to transfer credits into four-year programs. We wanted to showcase both options so students know what's available to them."
To be included in the rankings, schools had to be accredited, and they had to report data for at least two of the four points used to gauge success: acceptance, retention, graduation and loan default rate. This last is used to determine post-graduation employment; those with jobs are generally more able to repay their debts.
The site has provided a resource that spotlights the top schools in Pennsylvania, gives a brief introduction to how to become a resident of this state and highlights the four main regions and their attractions. Pennsylvanians have a lot to choose from, and BestColleges.com wants to make that decision well-informed and easier.
Top Two-year Colleges
Penn State - Mont Alto
Johnson College
Penn State - Shenango
Penn State - Fayette-Eberly
Thaddeus Stevens College of Technology
Top Four-year Colleges
University of Pennsylvania
Swarthmore College
Bucknell University
Haverford College
Lehigh University
ABOUT BESTCOLLEGES.COM
BestColleges.com was founded in 2012 with the mission of helping prospective students find the college that best meets their needs. Visitors to BestColleges.com can find the tools and resources to succeed throughout their higher education career. Those in the college planning stage can take advantage of college rankings, a searchable database of schools, and financial planning guides.