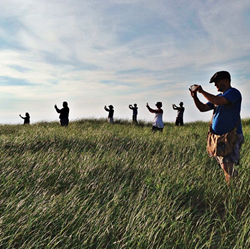 This smartphone photography class is perfect for beginners, emerging artists and anyone involved in social media.
Newport, Rhode Island (PRWEB) July 20, 2015
Award-winning photographer Jack Hollingsworth will teach an engaging and educational smartphone photography class at Hotel Viking from 5pm -8pm on July 30. The class includes interactive presentation and a photo walk capturing images of people, places, food and more while getting feedback, suggestions and instruction from Hollingsworth. The class starts at Hotel Viking and will end at Top of Newport, Hotel Viking's rooftop bar, where Hollingsworth will award an Olloclip 4-in-1 Lens Kit for the best photo of the day. The workshop is free of charge and limited to 25 students. Please register at hotelviking.eventbrite.com.
"This smartphone photography class is perfect for beginners, emerging artists and anyone involved in social media, whether for personal or business reasons," said Robert Burnetti, General Manager of Hotel Viking, "This special workshop will teach participants how to unlock the creative potential of their camera phones."
Students in Hollingsworth smartphone photography workshop will learn basics including exposure and composition; how to shoot and edit in top apps; and will get insider tips and tricks on how to capture memorable images of food, architecture, people, places and products. Participants need to bring a fully charged mobile device with a camera such as an iPhone or Android smartphone. Instagram, Twitter and Camera+ should be downloaded prior to the class.
During the week, Hollingsworth (@JackHollingsworth) will also do an Instagram Takeover of Hotel Viking's feed for two days while he explores Newport and shows behind-the-scenes at Hotel Viking. To see the images Hollingsworth captures, follow Hotel Viking on Instagram (@HotelViking). The hashtag for the class is #HotelVikingInstaClass and the Instagram Takeover is #HVTakeover.
About Jack Hollingsworth:
Jack Hollingsworth is an award winning photographer and iPhone photography expert. His remarkable imagery is represented by every major stock agency in the industry today including Getty, Corbis, and Blend Images. He has been hired to photograph top resorts, hotels and destinations around the world. Hollingsworth is involved in multiple iPhoneography projects, including e-books, podcasts, webinars, apps, workshops, and photo tours. Hollingsworth is the editorial content director for the popular Snap! Snap! Snap! blog, shares tips daily with his 52k followers on Twitter (@photojack), curates the best advice available from other experts on his Iphoneography Times e-paper, and has done Instagram (@jackhollingsworth.com) takeovers all over the world.
About Hotel Viking:
Hotel Viking, a member of the Historic Hotels of America, is located at One Bellevue Avenue in Newport, Rhode Island. Hotel Viking offers 209 elegantly appointed guest rooms and suites. With more than 13,000 square feet of event space, including two ballrooms, boardrooms and private meeting space, Hotel Viking easily accommodates groups and weddings large and intimate. Hotel Viking's culinary experiences include the award-winning One Bellevue, which offers three meals and Afternoon Tea daily, indoor and patio dining, as well as a bar and lounge. Top of Newport is Hotel Viking's seasonal roof top lounge offering live entertainment and special events and menus. The hotel's full-service spa features a selection of massage and skin treatments. Additional amenities include an indoor heated pool, fitness center, courtyard and the historic Newport Kay Chapel. Hotel Viking is a 30-minute drive from TJ Green Airport (27 miles) in Providence and the Providence Train Station, and is driving distance from Boston (70 miles) and New York City (170 miles). For information, please contact Hotel Viking 401-847-3300 or visit online at http://www.hotelviking.com. Be social at http://www.facebook.com/HotelViking and http://www.twitter.com/HotelViking.
About Pyramid Resort Group:
Pyramid Resort Group manages and asset manages a diverse portfolio of resorts in one of kind destinations across the United States and the Caribbean. These locations range from Hawaii to Arizona to Florida and to the Cayman Islands. Pyramid Resort Group delivers creative, engaging experiences for the leisure and group guest inclusive of golf, spa, fitness, dining, meetings, recreation, water sports, and cultural immersion. http://pyramidhotelgroup.com/