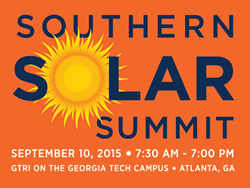 Atlanta, GA (PRWEB) July 21, 2015
Robert C. Armstrong, director of the MIT Energy Initiative, will present the keynote address at the 7th annual Southern Solar Summit at the GTRI Conference Center, 250 14th Street, NW, Atlanta, GA, on Thursday, September 10, 2015.
Dr. Armstrong recently led an MIT research team on the necessary components of a strong solar infrastructure in the U.S. The report assesses solar's current and competitive position and identifies policy changes that will support its long-term development. It calls solar energy "an essential component" in a workable strategy on climate change.
But significant policy changes and investment in research, as well as effective grid integration, are needed to scale solar investment and infrastructure to effective levels, according to the report.
In addition to his role as Energy Initiative Director, Dr. Armstrong is the Chevron Professor of Chemical Engineering at MIT. He formerly served as co-chair of MIT's Energy Research Council and the founding Deputy Director of the MIT Energy Initiative.
Among many awards for his work, Dr. Armstrong is a member of the Georgia Tech Academy of Distinguished Engineering Alumni. After receiving his undergraduate degree from Georgia Tech with highest honors in 1970, he earned his Ph.D. in chemical engineering from the University of Wisconsin, Madison, in 1973. His two-volume book, "The Dynamics of Polymer Liquids," has been named a Citation Classic.
Dr. Armstrong's keynote will be part of an exciting agenda planned for this year's summit. Panels will include expert discussions of project finance, the uses of Georgia's new distributed financing options, and much more. And additional announcements are just ahead.
Early Bird pricing is available until July 31 at $200 for members and $300 for non-members. This includes breakfast, lunch, snacks and Happy Hour at the end of the day. Sponsorship opportunities starting as low as $250 are also available.
Visit http://www.gasolar to register or call Lauren Hart at 404-522-4775 for more details.