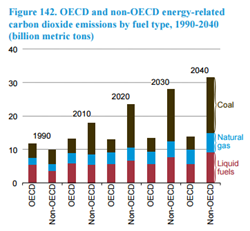 Canada represents 1.8% of global anthropogenic (i.e. human-induced) GHG emissions. That share is dropping every year, as emissions in Asia grow
Calgary, Alberta, Canada (PRWEB) July 21, 2015
As reported by Canadian Press on July 14, 2015 and published in the Financial Post Premier Philippe Couillard of Quebec appears to be basing Quebec approval of the "Energy East" oil pipeline from Alberta on his satisfaction with Alberta's climate change, environmental initiatives and economic benefits from the project. As pointed out in the Friends of Science recently published report "Climate Change Targets for Canada – Examining the Implications" by energy economist Robert Lyman, Canada's contribution, if meeting GHG reduction targets, would sacrifice the Canadian economy and do nothing for the environment, while developing nations would be free to forge ahead with fossil fuel use, unabated, and with none of the extensive pollution management used in Canada.
Lyman points out in the report that Canada represents 1.8% of global anthropogenic (i.e. human-induced) GHG emissions. That share is dropping every year, as emissions in Asia grow.
Friends of Science ask for a gesture of good faith on climate change, saying Premier Couillard of Quebec should cancel the popular Montreal Formula-1 Grand Prix, and Friends are asking the federal government to defund the event.
Friends of Science says it is simply hypocritical to critique Alberta's oil industry, driver of the Canadian economy, on climate change grounds, while supporting the multi-million dollar Montreal Grand Prix Formula-1 race car fun-fest that is all based on fossil fuels and jet setting celebrity indulgence. The Canadian government has made a 10 year financial commitment to the event as reported by CBC June 07, 2014.
Despite their challenge to Quebec on this 'carbon dioxide' point, Friends of Science see the sun as the main driver of climate change, not human industrial emissions. They point to the research of Dr. Nir Shaviv, astrophysicist with the Hebrew University of Jerusalem, whose findings indicate that solar variability was responsible for half to two/thirds of the warming in the 20th century and likewise in his view, solar activity also explains the current 18 years 'hiatus' in warming, even though there has been a significant rise in carbon dioxide.
About
Friends of Science have spent a decade reviewing a broad spectrum of literature on climate change and have concluded the sun is the main driver of climate change, not carbon dioxide (CO2). The core group of the Friends of Science is a growing group of earth, atmospheric and solar scientists, engineers and citizens.
Friends of Science Society
P.O. Box 23167, Mission P.O.
Calgary, Alberta
Canada T2S 3B1
Toll-free Telephone: 1-888-789-9597
Web: friendsofscience.org
E-mail: contact(at)friendsofscience(dot)org
Media: media(at)friendsofscience(dot)org