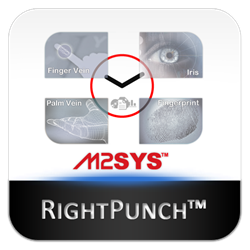 "Forever 21 is a great testament to the value of RightPunch™. It optimizes workforce management, expedites the clock in/out process and produces a thorough time and attendance data tracker." -- Michael Trader, President, M2SYS Technology
Atlanta, GA (PRWEB) July 21, 2015
M2SYS Technology, a global innovator in biometric identification management solutions, announced today that retailer Forever 21 has implemented the M2SYS PC-based RightPunch™ biometric time clock. RightPunch™ seamlessly interfaces with Forever 21's Kronos timekeeping software and allows employees to clock in and out through biometric authentication, optimizing labor tracking performance.
Integrating RightPunch™ with the Kronos Workforce Management platform enables Forever 21 to improve efficiencies and employee productivity and accountability.
Forever 21 elected to use RightPunch™ with fingerprint biometrics, although the solution supports other options such as finger or palm vein recognition.
"Forever 21 is a great testament to the value of RightPunch™," said Michael Trader, President of M2SYS. "RightPunch™ optimizes workforce management, expedites the clock in/out process and produces a thorough time and attendance data tracker. The solution's affordable price point is especially appealing to the retail industry where stores typically have less than 50 employees."
For more information, please visit http://www.m2sys.com/rightpunch-biometric-time-clock/
###
About M2SYS Technology
With over a decade of experience and millions of end users in more than 100 countries worldwide, M2SYS Technology delivers innovative, scalable, and practical identity management solutions that increase security and convenience while saving money, building accountability and establishing trust for governments and businesses around the world. The company continues to innovate, build, and deliver leading-edge enterprise biometric solutions that transform the industry and expand the applicability of biometric technology in the marketplace. M2SYS has been recognized for numerous industry accolades, including Frost & Sullivan's 2007 North American Biometrics Technology Innovation of the Year, the 2011 New Product Innovation Award, and the Atlanta Metro Chamber of Commerce 2014 Global Impact Award for Innovation. The M2SYS Corporate Blog can be found at blog.m2sys.com
Contact:
M2SYS Technology
John Trader
Director of Communications
jtrader(at)m2sys(dot)com
404-528-1279 (office)
410-491-5354 (cell)
About Forever 21
Forever 21, Inc., headquartered in Los Angeles, California, is a fashion retailer of women's, men's and kid's clothing and accessories and is known for offering the hottest, most current fashion trends at a great value to consumers. This model operates by keeping the store exciting with new merchandise brought in daily. Founded in 1984, Forever 21 operates more than 700 stores in 48 countries with retailers in the United States, Australia, Brazil, Canada, China, France, Germany, Hong Kong, India, Israel, Japan, Korea, Latin America, Mexico, Philippines and United Kingdom. For more information please visit: http://newsroom.forever21.com/
Contact:
Press(at)forever21(dot)com