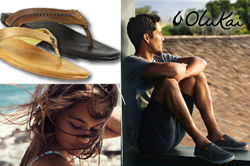 OluKai shoes have been consistently popular, especially during the warmer weather months. Our customers love the tropical styling and high quality materials.
Sunnyvale, CA (PRWEB) July 22, 2015
New styles and colors of OluKai sandals and shoes for men and women are all the buzz at Footwear etc. OluKai has intertwined luxury, comfort and a casual style in their sandals and shoes by using some of the best leathers and materials. Footwear etc. customers keep coming back for more because of this rare combination of attributes.
OluKai shoes are crafted with high quality materials and with precise detail. Each footbed is anatomically correct to provide great support all day long. Another detail that sets OluKai sandals apart is the original artwork featured on many styles, hand stitching, and true fitting lasts. OluKai shoes are timeless, classic and full of Hawaiian charm. Footwear etc. customers continue to remain loyal to the brand over the many years they have carried OluKai.
The Unahi for women is one of the new styles now available at Footwear etc. This is a synthetic flip flop built with water resistant synthetic nubuck straps and features a welded hook logo on the toe post. The footbed showcases a textured fish pattern to help with traction when walking on wet surfaces. The Unahi is available at Footwear etc. in Black, Beet Red/Black, and White/Black.
The Men's Mea Ola is not just for techies wearing hoodies! This style features a full-grain leather upper with beautiful embroidery. This toe-post sandal is perfect to wear casually, yet sophisticated because of the rich leather straps and footbed. Combine that with the anatomically-correct contours in the footbed to experience all-day comfort without sacrificing style. The outsole even contains non-marking molded rubber traction pods to help users from slipping on wet or slippery surfaces. The OluKai Mea Ola for men is available at Footwear etc. in Dark Java, Tan/Dark Java, and Ginger.
Women want the Wana - this sandal is a stand out among other OluKai sandals. The toe post is hand-sewn and the straps come in a soft full-grain leather or metallic leather, bonded together with seamless construction and then embossed and printed with a delicate Sea Urchin design. The footbed contours to the foot to provide all-day comfort, and the outsole is constructed with pods bonded to durable hard leather to help with traction. The OluKai Wana sandal is available in Bronze/Sahara or Black/Sahara.
Sales and Operations Manager at Footwear etc., Andrew Monarch, adds "OluKai shoes have been consistently popular, especially during the warmer weather months. Our customers love the tropical styling and high quality materials."
OluKai sandals and OluKai shoes are available in Footwear etc.'s retail stores as well as online at footwearetc.com
About Footwear etc.:
Footwear etc. is a well-established, family-owned business, headquartered in Silicon Valley, CA since 1986. The company is committed to improving customers' quality of life by offering brand name products that demonstrate their belief in the need for healthful, comfortable and fashionable footwear. Footwear etc. operates eleven retail stores located throughout the Bay Area and San Diego, and also offers their products on their website and catalog. To find out more, please visit http://www.footwearetc.com.