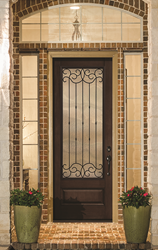 Maumee, Ohio (PRWEB) July 23, 2015
How do you know if your home needs a new front door? What color entry door improves the curb appeal of your home? When is the best time to make an investment in a new door? These are just some of the questions that experts at Therma-Tru offer answers and guidance to during "Door Do-Over Week" from August 3-7, 2015.
"Our inaugural Door Do-Over Week was extremely successful last year," says Donna Contat, director of brand management for Therma-Tru Corp. "We were able to provide helpful insights to homeowners and guide them through the door evaluation and selection processes. We're looking forward to once again helping consumers evaluate their current doors, learn more about door aesthetics and components, and providing valuable information on making door purchase decisions."
There are many reasons why a home could need a door do-over. According to Contat, entry doors, like other major components of the home, can wear out over time and need to be replaced. Additionally, a homeowner may "inherit" a door on a home they've recently purchased and wish to change the style to a better one in order to complement their home's personality.
"Homeowners don't need to live with a front entry door that they don't like or that has become inefficient over time," says Contat. "From a curb appeal and investment standpoint, it can make good economic sense to replace a front entry door."
Entry door replacement consistently ranks among the most valuable remodeling projects in Remodeling magazine's "Cost vs. Value Report," which evaluates remodeling costs and resale value to determine which projects will give homeowners the greatest return on their investment. But what's perhaps even more valuable is the immediate change you'll notice in your home. Whether you want to add a pop of color or the warmth of wood grain, a new entry door is a great place to start.
Door Do-Over Week coincides with National Curb Appeal Month in August. "Our goal is to provide homeowners with information and ideas for making a smart, affordable and good-looking door replacement choice for their homes," says Contat. "Whether it's a wood-grained entry door that complements an Arts and Crafts-style home or a smooth painted door to highlight a Modern-style home, the entry is the key welcoming trademark of every house.
"Curb appeal isn't just a buzzword. It's the wow factor people get when they drive by your home. It's the cozy feel that welcomes guests to come in and stay a while. And most homeowners agree: An attractive front entrance not only adds curb appeal, but can increase perceived resale value."
A Week Dedicated to Doors
During Door Do-Over Week, Therma-Tru has designated a theme for each day to help consumers learn more about their doors. Information will be posted daily on the company's Facebook and Twitter pages, providing consumers with insights on evaluating their current doors and making future door purchase decisions. Topics include:

Door Evaluation Day - Monday, August 3: Providing homeowners with methods to evaluate their current door for both energy-efficiency and aesthetic appeal.
What's Inside Your Door Day - Tuesday, August 4: Offering explanations of the various components and the system that makes up a door, including energy efficiency features.
Slam Your Door Day - Wednesday, August 5: Talking about the wear and tear a door goes through and how doors are constructed and tested to withstand harsh treatment.
Door Appeal Day - Thursday, August 6: Focusing on the tools available to homeowners for locating and deciding on what door options are available to them, along with tips for selecting doors that can enhance the overall look of a home.
I Love My Door Day - Friday, August 7: Showcasing color advice for doors from national color expert Kate Smith, along with tips for enhancing the "top down" curb appeal of a home.
Door Do-Over Sweepstakes
To add excitement to Door Do-Over Week, Therma-Tru will once again offer a Door Do-Over Sweepstakes that runs during National Curb Appeal Month, from August 1-31, 2015.
Homeowners are invited to enter the online Door Do-Over Sweepstakes for the chance to win a "door do-over" from Therma-Tru, including a new fiberglass entry door system.** People can enter the sweepstakes at http://www.todayshomeowner.com/DoorDoOver.
About Therma-Tru
Therma-Tru is the leading entry door brand most preferred by builders and remodelers. Founded in 1962, Therma-Tru pioneered the fiberglass entry door industry, and today offers a complete portfolio of entry and patio door system solutions, including decorative glass doorlites, sidelites and transoms, and door components. The company also offers low-maintenance Fypon® urethane and PVC products. Headquartered in Maumee, Ohio, Therma-Tru is part of Fortune Brands Home & Security, Inc. (NYSE: FBHS). For more information and product warranty details, visit http://www.thermatru.com, http://www.fypon.com or call (800) 537-8827.
###
©2015 Hanley Wood, LLC. Complete data from the Remodeling 2015 "Cost vs. Value Report" can be downloaded free at http://www.costvsvalue.com.
**No purchase necessary; must be resident of 50 states, be 18+ and a homeowner. The "Door Do-Over" Sweepstakes sponsored by Therma-Tru Corp. and administered by Today's Homeowner begins on August 1, 2015 at 7:00:01am Eastern Time ("ET") and ends on August 31, 2015 at 11:59:59pm ET. Prize includes a Classic-Craft or Pulse fiberglass door valued at up to $5,000; installation and sidelites not included. Void where prohibited; see http://www.todayshomeowner.com/DoorDoOver for rules, regulations and full details.