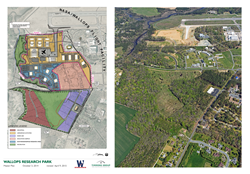 Accomack County, VA (PRWEB) July 22, 2015
Construction has officially ended this month for Phase 1 of the new Wallops Research Park (WRP) in Accomack County, the nation's newest space and aerospace applied research park. With its location adjacent to NASA Wallops Flight Facility, it is the ideal location for aerospace and aviation operations, specifically for Unmanned Aircraft Systems (UAS) and medium class space launch vehicles. The Park is an economic development effort between Accomack County, NASA Wallops Flight Facility and the Chincoteague Bay Field Station.
The goal of the WRP is to support growth in business, science research, educational activities and technology in the area, particularly those related to the core activities at NASA Wallops Flight Facility. In addition, the region continues to attract more tourists, as a result of several high-profile rocket launches in 2013 and 2014. The completed 1,200-feet by 75 feet wide taxiway that connects to the existing 8,750 feet NASA runway provides a low-cost rapid response portal to air and space.
Julie Wheatley, Executive Director of Wallops Research Park is excited about the Phase 1, 80-acre completion. "With infrastructure in place, the site selection field is narrowed, enhancing the capacity to attract targeted businesses," she said. "We look forward to its long-term impacts that attract and maintain science, technology and education, while contributing to the economic development of the eastern shore of Virginia and Maryland."
Timmons Group, an ENR Top 500 Engineering and Technology firm, provided support to WRP and Accomack County for over five years. Support included engineering and environmental services for taxiway extension, access roadway and utility support, master planning and grant support, environmental evaluations, park design guides and covenants for building/site improvements (landscape, setbacks, signage).
The park includes parcels for commercial, research and manufacturing facilities that are currently available with 80+ acres ready for individual site development. Visit http://www.wallopsresearchpark.org to learn more.
About Timmons Group
Timmons Group is a multi-disciplined engineering and technology firm recognized for over twenty-five years as one of Engineering News Record's (ENR) Top 500 Design Firms in the country. The firm provides economic development, civil engineering, environmental, GIS/geospatial technology, landscape architecture and surveying services to a diverse client base. Headquartered in Richmond, Virginia, Timmons Group has regional offices across the United States. For more information, visit http://www.timmons.com.