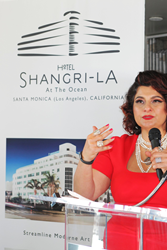 My approach for the renovation was to stay true to the soul of the hotel, honor its essence and give back to an incredible building that had given so much to so many
Santa Monica, CA (PRWEB) July 22, 2015
Members of the American Institute of Architects/Los Angeles Chapter and co-host Architectural Digest enjoyed an exclusive behind-the-scenes visit to the timeless Art Deco Hotel Shangri-la at The Ocean in Santa Monica. The sold out tour was personally escorted by hotel owner and creative director Tamie Adaya, who shared insights about the hotel's historic significance, $30 million renovation and never before told stories of great luminaries, artists and political figures who all used this property to ruminate, create, and make history.
Evoking the form of a grand ocean liner and the very essence of the Golden Age of Hollywood, the Hotel Shangri-la is a striking beacon of Art Deco elegance in the Streamline Moderne style and a member of Small Luxury Hotels of the World. With a rich history dating back three-quarters of a century, Hotel Shangri-la has been the ultimate clandestine relaxation retreat for celebrities, future presidents, royalty and families.
In the 1940s, it lured actors such as Mae West and Jane Wyman, the future wife of President Ronald Reagan, to its beauty and solitude. It was also where a close confident of President Franklin D. Roosevelt's helped conceive the idea of today's modern Navy Seal program just prior to U.S. involvement in World War II. During the war, the Hotel Shangri-la also provided battle-weary U.S. combat veterans a safe haven where they could rest and relax for 15-day periods before entering civilian life.
Since its opening, this iconic Art Deco hotel entertained VIP guests from John F. Kennedy Jr. to the Dalai Lama. It has continued its celebrity appeal throughout the ages with A-listers such as Madonna, Tom Cruise, and Diane Keaton frequenting luxurious suites that overlook the Pacific and the Santa Monica pier and offers guests their own personal Shangrila.
Tamie Adaya explained to guests, "My approach for the renovation was to stay true to the soul of the hotel, honor its essence and give back to an incredible building that had given so much to so many. My mandates were to maintain the architectural integrity of this building while introducing modern amenities; reclaim Santa Monica's historic, intellectual, literary and edgy artistic subculture; create a nexus of popular and alternative culture; and to reconcile the dichotomies of the property by enabling guests to indulge in a series of seemingly disparate experiences."
Some of the hotel's authentic and extra special touches include a 1939 cobalt blue Chase Martini Set reflecting the tone for this post-depression era, full of hope and lavish, swanky social gatherings. An original Erté adorns the wall of one of the suites as well as commissioned work by contemporary artist Kesh.
"This special tour of the Hotel Shangri-la was one of our best and offered an intriguing in-depth understanding of the vision and priorities that guided Tamie's masterful renovation of this Art Deco landmark," said Carlo Caccavale, associate director for the American Institute of Architects/Los Angeles Chapter.
Culminating the evening tour was a visit to the Penthouse where guests enjoyed the magnificent view from the Penthouse during a hosted wine and cheese reception. Also featured was the recently published commemorative 75th anniversary coffee table authored by Tamie Adaya, which she graciously signed for guests. Event co-sponsor Catherine Nadel from Architectural Digest provided members with an exclusive complimentary gift bag.
About Hotel Shangri-la
The original and urbane Hotel Shangri-la at The Ocean in Santa Monica is anything but ordinary and a member of Small Luxury Hotels of the World. Overlooking the Pacific since 1939, the hotel is a striking beacon of Art Deco elegance, a chronicle of the golden era of Hollywood and a quintessential nexus of culture. Hidden away on a high Santa Monica bluff overlooking the ocean and historic Santa Monica Pier, this timeless luxury boutique hotel promises guests their own personal Shangrila. Guests enjoy brilliant views of the Pacific Ocean, a celebrated history and a cultural connection during their stay. In the U.S., for toll-free room reservations only, please call (800) 345-STAY (7829) or for more information, visit http://www.Shangrila-Hotel.com.