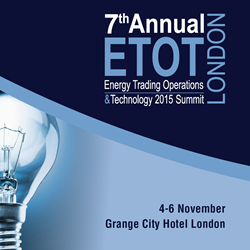 It's an IRN Summit!
London (PRWEB UK) 24 July 2015
Energy trading and risk management software is gradually starting to make use of cloud computing. Hosted-in-the-cloud software solutions improve efficiency while also reducing costs in today's rapidly changing energy market. These Cloud-based solutions represent an immense advantage for energy trading companies as they remain a less expensive alternative to traditional software, improve deployment in the ETRM space, enhance the ability to quickly meet business demands, increase collaboration amongst departments, and allow smaller structures to have access to software solutions.
With that in mind, ETOT will dedicate a stream that will identify IT initiatives across the industry and bring the latest insights on new technologies, automation, effective integrated systems and trade surveillance. The stream will expand on the Cloud and the advantages of cloud-based solutions. Marco Scherer, Head of Back Office IT Solutions - Global Commodities & Wholesale at E.ON Business Services, will be leading the session and also revealing the lessons learnt during implementation of such systems at E.ON Global Commodities. The IT sessions will be chaired by Fabio Kuhn, Head of GTEL Architecture & Front-Office Innovation at BP, who will be also moderating a panel discussion on trade surveillance that will highlight current needs in the area.
The speaking panel of ETOT gathers experts from leading companies such as OMV AG., Repower, Edison, E.ON, Endesa, Enel, RWE Supply & Trading, Alpiq, Centrica, Axpo Italy, Barclays Capital, Eneco Energy Trade, EconGas, Vattenfall, Enovos, ICAP Energy and Macquarie Group, as well as authorities and other key organisations such as FCA, EFET and the International Swaps and Derivatives Association (ISDA).
This edition of ETOT, taking place on 4-6 November at the Grange City Hotel in London, is sponsored by Baringa Partners, CME Group, BroadPeak, REGIS-TR, Morningstar, Allegro, DataGenic, ZE, Abide Financial and d-fine. The Summit is also endorsed by EFET.
More information about this Summit is available on the website: http://www.etotsummit.com.