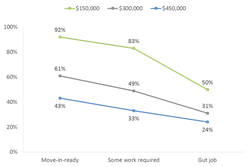 Philadelphia, PA (PRWEB) July 23, 2015
TRC Market Research (http://www.trchome.com), a new product research company specializing in conjoint analysis, announced today the results of a quantitative study conducted among its 197 panel members who were recent and soon-to-be homebuyers. The study used conjoint analysis to measure trade-offs homebuyers make when looking at the 5 basic house stats during their initial phase of searching for a new home. Number of bedrooms: 1,2, 3 or 4; number of bathrooms: 1 full, 1 full/1 half, 2 full, 2 full/1 half or 3 full; house style: single family, townhouse, condominium, or multi-family; house condition: move-in ready, some work required or a gut job. The price levels were $150,000, $200,000, $250,000, $350,000 and $450,000.
Conjoint analysis was selected for its ability to measure both the importance of each of the 5 factors as well as the trade-offs respondents are willing to make. The study was able to identify whether homebuyers were willing to give up a bedroom to get the right price or if they were willing to pay more in order to obtain the desired number of bedrooms and bathrooms.
The survey framed the conjoint exercise by asking homebuyers to imagine they were shopping for a home and to assume it is located in their ideal location. The respondents were shown 2 home listings side by side, plus a "I wouldn't choose any of these" option.
Bedrooms, price and house condition were found to be the top three most important factors while home shopping. TRC used the conjoint simulator to reveal that overall, homebuyers are less interested in a "gut job" compared to "move-in-ready".
However, at the $150,000 price point, share of preference dropped more drastically from "move-in-ready/some work required" to "gut job" compared to higher price points. It's likely because those shopping at lower price points probably have less disposable income available for major repairs. When the conjoint simulator was set up at the $150,000 and $300,000 price points and house condition by those with an income of less than $75K vs. those making $75K or more, the tool revealed that preference for a "gut job" is much lower among those making less money.
The study also examined some of the less tangible, less quantifiable factors such as updated kitchen, proximity to work, size of a lot, using a different testing method.
About TRC Market Research, a new product development research firm
TRC Market Research is a new product research and analytics firm that pairs customized solutions with senior-level attention to help solve business problems. TRC provides expertise in designing and implementing successful brand research, pricing research, business to business market research, market segmentation and satisfaction and loyalty research.
Philadelphia-based TRC Market Research is affiliated with CASRO, ESOMAR and the American Marketing Association.
For more information, contact Lenka Kolar.