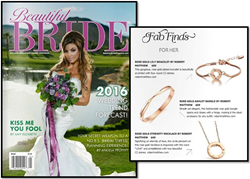 San Francisco, CA (PRWEB) July 24, 2015
On this month's issue of Beautiful Bride Magazine, the Robert Matthew jewelry collection was featured as one of their fab finds. A collection filled with the latest styles, these pieces will make an excellent present for the bride or her bridesmaids.
Rose gold adds a delicate tone to every jewelry, and the pieces featured on Beautiful Bride Magazine's issue is a timeless and memorable present to give. The Robert Matthew Jewelry Collection is a perfect choice for a registry or a bridesmaid's gift as a token of appreciation. These pieces will forever hold wonderful memories from that one special day.
The Lily Bracelet is a dainty rose gold plated bracelet that is complimented with four CZ Stones; it's a simple piece with so much classiness.
Both stylish and lightweight, the Ashley Bangle is a rose gold plated bangle that can be both worn dressed up or down or layered with other bangles. This bangle is an excellent choice to add to her collection.
A necklace that will forever sparkle and remain close to her heart, the Eternity Necklace is a beautiful piece that features two delicate CZ stones and the word "LOVE" engraved on the lower portion.