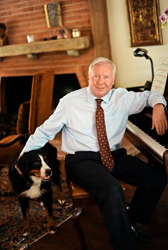 In many ways, we've helped pioneer the road for our clients with IVC filter complications that were designed to assist with their deep vein thrombosis, pulmonary embolism, and venous thromboembolism."
Dallas, Texas (PRWEB) August 04, 2015
The Law Offices of Ben C. Martin, based in Dallas, Texas, is involved in allegedly defective medical device lawsuit claims dealing with Inferior Vena Cava Filters ("IVC Filters").
As lead IVC filter lawyer for the firm, Mr. Martin has been filing the firm's federal cases for Cook IVC Filter clients under In re Cook Medical, Inc., IVC Filters Marketing, Sales Practices and Products Liability Litigation, MDL No. 2570. For the firm's federal cases pertaining to Bard IVC Filters, those have been filed under In re Bard IVC Filters Product Liability, MDL No. 2641.
On Thursday, July 30, Mr. Martin spoke in San Francisco at a hearing with the United States Judicial Panel on Multidistrict Litigation. This hearing was organized as an effort to centralize all federal cases against allegedly defective C.R. Bard filters.
IVC Filters are designed to catch blood clots before they travel to the lungs, thus preventing pulmonary embolisms. The FDA has issued a safety communication on August 9, 2010 regarding complications associated with IVC filters, such as those developed by C.R. Bard. In particular, the FDA communication stated that it "has received 921 device adverse event reports involving IVC filters, of which 328 involved device migration, 146 involved embolizations (detachment of device components), 70 involved perforation of the IVC, and 56 involved filter fracture. Some of these events led to adverse clinical outcomes in patients."
On July 13, 2015, the FDA issued a warning letter to C.R. Bard, stating among other things, that the company manufactured its filter retrieval device "without marketing clearance or approval, in violation of the [Federal Food, Drug, and Cosmetic] Act"; that "complaints were filed as malfunctions and should have been filed as serious injuries," and; that an event was "filed as a malfunction Medical Device Report [MDR] and should have been filed as a death."
According to Mr. Martin, the firm's founder and lead IVC Filter lawyer, "We're here to help. In many ways we've helped pioneer the road for our clients with IVC filter complications that were designed to assist with their deep vein thrombosis, pulmonary embolism, and venous thromboembolism."
To assist with the IVC Filter complications that client patients have experienced, the legal team at The Law Offices of Ben C. Martin employs experienced, aggressive, and service-oriented trial attorneys; they have seen about as many no-nonsense years inside a court room as they have in shrewd lawsuit settlement negotiations with insurance companies and pharmaceutical giants.
While the firm has established a foundation of clients who have experienced the type of personal injury many readers think of – such as medical malpractice incidents, car accidents, tractor trailer collisions, and dog bites – the firm has made a name for itself after helping people get their lives back after suffering from alleged defective drugs and medical devices.
About the Law Office of Ben C. Martin: For over twenty-five years the trial attorneys at the Dallas-based Law Offices of Ben C. Martin have been representing victims of defective medical devices, dangerous drugs, negligent auto accidents, personal injury, and wrongful death. In the process of obtaining favorable results and early settlements, they have been holding their clients' hands every step of the way. Speak to a member of their legal team and get the answers you need today; they are ready to be your trial team.
Disclaimer: This article is for informational purposes and should not be construed as legal advice or establishing an attorney-client relationship. Ben C. Martin is certified in both Civil Trial Law and Personal Injury Law by the Texas Board of Legal Specialization since 1991.