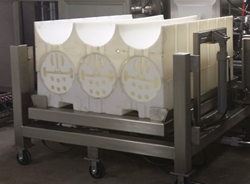 "We recognized when designing our machines that we needed to take as much human error out of the equation when it came to monitoring processes and parameters that are critical to consumer food safety," states Managing Director of NEXT HPP, Gerald Ludwick
White Pigeon, MI (PRWEB) July 27, 2015 (PRWEB) July 27, 2015
The food industry is constantly evolving and changing, today, at a faster pace than ever before. New technologies and food safety regulations signed into law on July 3, 2011 by President Obama January in 2011 grant the FDA new authorities under the FDA Food Safety Modernization Act (FSMA).Beginning July, the FDA will be able to detain food products that it has reason to believe are adulterated or misbranded for up to 30 days, if needed, to ensure they are kept out of the marketplace. "This authority strengthens significantly the FDA's ability to keep potentially harmful food from reaching U.S. consumers," said FDA Deputy Commissioner for Foods Mike Taylor. "It is a prime example of how the new food safety law allows FDA to build prevention into our food safety system."
High Pressure Processing (HPP) is a fully commercialized, emerging technology that is gaining rapid acceptance in global food manufacturing. HPP is a cold water ultra-high pressure based technology that can drastically extend the shelf-life of totally fresh products. In High Pressure Pasteurization all natural food products are submerged, in water and then subjected to incredible water pressure. Under the intense pressure the spoilage microbes are drastically reduced.
Process validation and verification are major requirements of the Food Safety Modernization Act (FSMA). Tatiana Koutchma, PhD comments, "According to FSMA validation of high pressure process (HPP) used as a kill-step is required in order to make sure that the HPP treatment is at a level of effectiveness to ensure food safety objective. The hazard analysis mandated by FSMA regulations serves to identify the pathogens of significance for a specific food and its specific process or control measure." See related article, " Adapting High Pressure for Food Processing Operations" by Tatiana Koutchma, Agriculture and AgriFood Canada, Guelph Food Research Center, Guelph, Ontario, Canada Elsevier, 2014
NEXT HPP recognizes the importance of the "critical processing parameters" for HPP treatment of foods by regulatory agencies. The parameters set by the FDA include:

Target process pressure
Time at target pressure
Time to achieve target pressure or come up time (CUT)
Decompression time or come down time (CDT)
Initial temperature of product
Initial temperature of the pressurization fluid
Product pH
Product water activity
Many of these processing parameters are a function of the HPP machine, it is vital that the machine intuitively monitor these parameters and not allow product that is being processed by the HPP machine to exit the machine unless all these parameters have been successfully controlled. Next HPP machines accomplish this goal by tracking the basket as it enters the HPP machine through the use of a bar code scanner. Once the baskets have been successfully read they are auto loaded into the machine for processing. If at anytime during the processing the "control parameters" fall outside of the acceptable limits the machine will fault the cycle and not allow the baskets to be removed from the machine until another process is ran successfully or the operator of the machine manually over-rides the system. All the data is collected in a real time database with immediate notifications the sent to QC personnel further ensuring compliance.
"We recognized when designing our machines that we needed to take as much human error out of the equation when it came to monitoring processes and parameters that are critical to consumer food safety," states Managing Director of NEXT HPP, Gerald Ludwick. NEXT HPP machines are built on a real time information platform vs. the batch processing you see in competitive machines.
NextHPP is what's next in HPP equipment and Material Handling Solutions
We are small, nimble, unique and responsive to this rapidly changing industry. We design to the unanswered and future needs of the industry. All machines come standard with automatic loading and unloading, tractability, reporting, intuitive PM and simplicity. Service is paramount and we've designed non-proprietary parts as every turn. We focus on local support where you live and work.
The industry is requesting lower operational costs, reducing labor, improving throughput, and significant improvement in reliability. The NextHPP design drives solutions to those requests through equipment design that combines proven material handling solutions.
NextHPP Will Unlimit Your Process