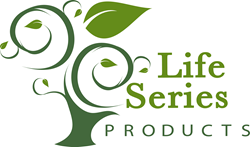 We're expanding our products so customers can approach health in a natural, wholesome way
Grand Junction, CO (PRWEB) July 29, 2015
Life Series Products, an online nutraceutical company specializing in high-quality CBD and hemp oil supplements, recently added six new products to its line of offerings.
The addition includes two new supplements, Grape seed oil and Blended Life oil, and four food products: hemp flour, hulled hemp seeds, toasted hemp seeds and hemp protein powder.
Grape seed oil, a powerful antioxidant, supports healthy circulation and is thought to support healthy blood pressure and cholesterol levels. Blended Life oil combines hemp, grape seed and chia oil for a daily supplement packed with essential fatty acids and antioxidants.
Hemp flour, a natural source of plant-based protein, contains all 20 essential amino acids and ads a rich, nutty flavor to baking recipes. Toasted and hulled hemp seeds offer a protein boost and a high source of fiber as a garnish or snack. Hemp protein powder offers a natural and tasty alternative to whey or casein powder, contains all 20 essential amino acids and provides a natural source of arginine and lysine, which aid in the release of hormones that promote muscle formation.
"We're expanding our products so customers can approach health in a natural, wholesome way," said Ed Sittner, owner. "Our CBD and hemp oils form the foundation of our company, but these new products offer even more tools—more avenues—for people looking to supplement their life."
All lines from Life Series Products can be found at the company's website: http://www.lifeseriesproducts.com
About Life Series Products: Life Series Products, LLC. is a privately held health and wellness company dedicated to providing communities with safe and effective phyto-based solutions. The company uses only the finest available plant-derived ingredients, hemp products and CBD isolate to offer a commonsense, organic approach to daily living.