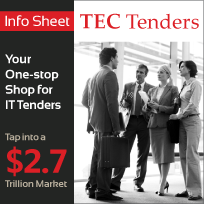 "TEC Tenders is the largest, most complete database of its kind that lets subscribers access all of their opportunities in one place, and in a timely manner." -- TEC Tenders managing director, Joshua Gransbury
Montreal, Quebec (PRWEB) July 24, 2015
Technology Evaluation Centers (TEC) is pleased to announce the launch of TEC Tenders, the industry's most comprehensive online database of global information technology (IT) tenders and requests for proposals (RFPs) for the public sector. It provides a quick and easy way for IT hardware and software providers to bid on active procurement contracts totaling approximately $2.7 trillion (USD).
Updated daily and with 20,000 public procurement opportunities from around the world, TEC Tenders allows IT hardware and software providers to bid on those opportunities that most closely match their line of business. Providers readily search through thousands of opportunities—all in one convenient location—and easily narrow in on the most relevant ones.
As part of the subscription service, TEC's in-house experts match the provider's profile and capabilities with the most relevant bidding opportunities. The matched opportunities are sent directly to the provider via email within 24 hours of their public release, providing ample lead time for the provider to initiate its bid. These daily alerts on the most relevant opportunities will help providers save time and money in their bids for public contracts.
TEC Tenders managing director, Joshua Gransbury, says, "TEC Tenders is the largest and most complete database of its kind. Our subscribers want to be able to access all their opportunities in one place and in a timely manner— this is exactly what TEC Tenders provides."
TEC Tenders was created in response to a growing worldwide demand for IT services. Governments and other public sector agencies continue to increase their spending on IT-related products and services. In developed countries, the need for IT resources is essential for increasing efficiency and reducing costs. In developing countries, spending on IT infrastructures will continue to increase as more development projects are initiated.
For more information on TEC Tenders or to subscribe, call +1-514-954-3665 ext. 389 or email tenderinquiry@technologyevaluation.com.
About Technology Evaluation Centers (TEC)
Technology Evaluation Centers (TEC) is the world's leading provider of software selection resources, services, and research materials, helping organizations evaluate and select the best enterprise software for their needs. With its advanced decision-making process and software selection experts, TEC reduces the time, cost, and risk associated with enterprise software selection.
Over 3.5 million subscribers leverage TEC's extensive research and detailed information on more than 1,000 leading software solutions across all major application areas. TEC is recognized as an industry-leading software selection advisory firm offering resources and services both online and onsite. For more information, please visit http://www.technologyevaluation.com.