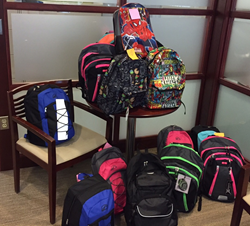 It truly is a great feeling to know we can make a difference in the lives of others in so many different ways.
Wakefield, MA (PRWEB) August 17, 2015
The Advocator Group is pleased to extend its passion for service into the local community by donating backpacks filled with school supplies specifically needed by fourteen unique students ranging from kindergarten through eleventh grade in the Wakefield school system. Teammates at The Advocator Group received backpacks and packing lists for students of a particular gender and grade level, and this personal touch means a great deal to the advocacy team as they work with a wide range of individuals each day with diverse backgrounds and unique needs.
Seven different schools throughout the town of Wakefield are involved in this initiative, and the Social Security disability advocacy firm worked with the school system's business administrator to select students to receive backpacks based on age and family need. The Advocator Group donated office supplies to Wakefield schools in 2014, but was excited to have the opportunity to get more deeply involved and directly impact the lives of these fourteen students who might have otherwise gone without essential school supplies.
This service project was coordinated by The Advocator Group's Employee Engagement Committee, which has a specific team dedicated to community service. The company seeks to guide its clients through life's many changes, and filling backpacks for local students will help those students transition into a new school year and new stage of their life.
"We are extremely passionate about community service as an organization," states CEO of The Advocator Group, Julie Turpin. "Each day we provide assistance to individuals nationwide who are often overwhelmed by their circumstances, and now we are thrilled to be able to help underprivileged students in our community as they navigate a new environment, new teachers and peers, and other academic and social challenges. It truly is a great feeling to know we can make a difference in the lives of others in so many different ways."
The Advocator Group looks forward to continuing to extend services into the local community and to future opportunities to partner with Wakefield schools.
ABOUT THE ADVOCATOR GROUP – The Advocator Group, LLC is a nationwide advocacy organization dedicated to helping individuals apply for and obtain Social Security Disability Insurance. In addition, The Advocator Group assists Medicare beneficiaries in identifying the best coverage possible for their unique needs. The Advocator Group's team of experienced Social Security and Medicare advocates ensures that each client is provided phenomenal service while each case receives close attention. The company's core values include creating opportunities, enriching lives, and growing through innovation. For more information, visit http://www.advocator.com.