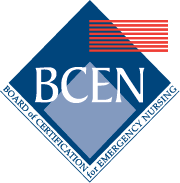 Naperville, IL, (PRWEB) July 27, 2015
The Board of Certification for Emergency Nursing (BCEN®) has named Sandra Samargis as their new Executive Director.
Samargis has been with BCEN for nearly four years as their Director of Business Strategy and has also been serving as acting Executive Director since January 2015.
"We are thrilled that Sandra has agreed to accept this position," said BCEN Chairperson Janie Schumaker, MBA, BSN, RN, CEN, CPHQ, FABC. "We've been impressed with her leadership, and the Board of Directors looks forward to working with her to expand BCEN's reach and help more emergency nurses feel empowered through certification."
With more than 14 years in the industry, Samargis has experience working with professional credentialing programs from both the vendor side and the client/program management side. She has held positions with Integral7, Pearson VUE, and CompTIA.
"I'm excited about the opportunities for BCEN," noted Samargis. "We believe people deserve the best possible care, and caring, when they are in need of emergency nursing services. It is an honor to serve and support the emergency nurses and health care organizations who believe in the same."
The Board of Certification, a not-for-profit corporation, is the benchmark for nursing certifications across the emergency spectrum. There are currently more than 37,200 BCEN certified nurses. The Certified Emergency Nurse (CEN®), Certified Flight Registered Nurse (CFRN®), and Certified Pediatric Emergency Nurse (CPEN®) certifications are accredited by the Accreditation Board for Specialty Nursing Certification (ABSNC). BCEN also offers the Certified Transport Registered Nurse (CTRN®) certification and will offer the Trauma Certified Registered Nurse (TCRN™) in early 2016.