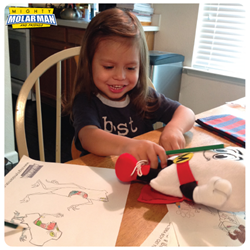 Max did amazing! You couldn't tell at all that he had sensory issues and had ever been worried. He was confident and excited about Mighty MolarMan!
(PRWEB) August 06, 2015
Today, dental office phobias prevent as many as one in three adults, teens, and children from seeking regular dental care. Often both kids and adults feel the need to undergo sedation in order to cope with their fear of the dental chair, however sedation can often be expensive, unnecessary, and risky--particularly for young children.
Now, with the help of Mighty MolarMan, the superhero of smiles, and his friends, millions of kids and adults are able to visit the dentist with no uncertainties. Through Molar Towne Productions' inspiring and informational blog posts, videos, and newly released book, "Molar in the Mirror," kids and families can confront their anxieties and realize that dental care is nothing to fear.
In their most recent blog post, kids and adults can see how Mighty MolarMan helped 3-year old Max, a child with special needs, overcome his fright of visiting the dentist.
In the new post, Mighty MolarMan & Friends worked with Max's mother to ease the reservations Max had about visiting the dentist. Through the video and personalized message from Mighty MolarMan himself, all Max's anxieties were alleviated, allowing him to receive the proper medical attention he needed.
Today, Mighty MolarMan & Friends are revolutionizing how children and families feel about dental care through trust-building, friendships, and making dental appointments and proper dental hygiene fun and informative.
The team's recently released book, "Molar in the Mirror," self-published in February 2015 and now available on Amazon, is the foundation of what the organization calls "The Mighty MolarMan Experience." It relieves the dread surrounding dental appointments and encourages children to maintain responsible dental hygiene habits even after they leave the chair.
"It's about time that families, dental healthcare professionals, charitable organizations and educators have something more than the Tooth Fairy to offer kids," says Dr. John Bond, co-founder of Molar Towne Productions. "Through our educational and entertaining multimedia tools, we allow children to see that dental care is nothing to be afraid of."
About Molar Towne Productions:
Molar Towne Productions' vision is to create entertaining and educational multimedia, featuring Mighty MolarMan & Friends, that changes the way children and families feel about dental care. By collaborating with dental professionals, charitable organizations, educators and families, we strive to form a strong foundation that provides real solutions to longtime dental care obstacles such as fear and anxiety associated with seeing the dentist and a lackadaisical/apathetic attitude toward dental health.
The Molar, the Merrier!
Press Contacts:
Dr John Bond
Juan Molano
Aka The MolarMakers
John(at)molartowneproductions(dot)com
Juan(at)molartowneproductions(dot)com
Cell: 214.952.2901 - Dr. John Bond
Cell: 469.261.2602 - Juan Molano
http://www.mightymolarman.com