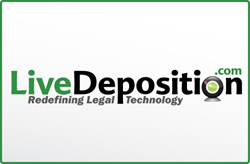 We look forward to attending the 2015 NCRA Annual Conference in New York. Since last year's conference, there have been a number of key enhancements to LiveDeposition.com's product line, specifically the release of our exciting ElectronicExhibits™
Los Angeles, CA (PRWEB) July 28, 2015
LiveDeposition.com, a leading provider of local and cloud-based remote realtime streaming solutions for the legal industry, will be exhibiting at the 2015 National Court Reporters Association's Annual Conference being held at the Hilton New York Midtown in New York, New York from July 30, 2015 to August 2, 2015.
Held each year, the National Court Reporters Association (NCRA) Annual Conference is the largest gathering of court reporters, captioners, CART providers, scopists, legal videographers, trial presenters, and other legal professionals around the world. The conference offers a number of educational seminars and social events.
In addition to the educational seminars and social events, attendees are encouraged to visit the Exhibit Hall, where vendors will be showcasing the latest products and services available to the court reporting industry. The Exhibit Hall will be open from Thursday, July 30, 2015 to Saturday, August 1, 2015. LiveDeposition will be located in Booth 24. Company representatives Jason Richmond and Bob Scott will be at the booth answering questions and demonstrating LiveDeposition.com's LocalRealtime™, RemoteRealtime™, and brand new ElectronicExhibits™ products.
Those who stop by LiveDeposition.com's booth will be able to:

See LiveDeposition.com's LocalRealtime™ in action; the only universal realtime streaming software on the market.
Try out LiveDeposition.com's brand new ElectronicExhibits™ feature
Experience the simplicity of setting up and managing a live realtime stream through LiveDeposition.com's cloud-based streaming solution, RemoteRealtime™.
Take LiveDeposition.com's Mobile App for a test drive and see how attendees can instantly send and receive audio and video from an iPad, Kindle Fire or Android enabled Smartphone or Tablet.
See how easy LiveDeposition.com's all-in-one solutions are to use.
"We look forward to attending the 2015 NCRA Annual Conference in New York. Since last year's conference, there have been a number of key enhancements to LiveDeposition.com's product line, specifically the release of our exciting ElectronicExhibits™," stated Jason Richmond, Vice President of Business Development for LiveDeposition. "It's always fun and educational to network with new and existing clients and I can't wait for them to see how much has changed with our product since the 2014 NCRA Annual Conference in San Francisco."
For more information on The National Court Reporters Association, you can visit their website at http://www.ncra.org.
For more information on LiveDeposition.com, please visit http://www.livedeposition.com or call 888.337.6411.
About LiveDeposition.com
Headquartered in Sherman Oaks, CA, LiveDeposition.com is powered by MegaMeeting.com, a long-time resident of the video and web conferencing industry. As the only universal streaming solution on the market, LiveDeposition.com provides the Legal Industry with local and cloud-based remote deposition solutions, as well as electronic exhibits, web-based video conferencing and toll-free conferencing services. Being exempt from typical download and installation requirements, LiveDeposition.com works on all internet browsers, connects to all CAT software and litigation realtime viewers as well as offers mobile apps for iOS, Android and Kindle Fire users, making its state-of-the-art solutions easily accessible via PCs, Macs, iPhones, iPads, as well as all Android enabled tablets and smartphones.