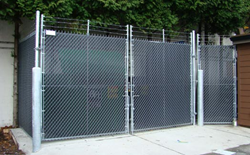 The blog provides 4 useful points to consider before removing an old fence from one's property.
Vancouver, BC (PRWEB) July 28, 2015
QS Fencing, a Surrey fencing company, has recently published some very useful tips on removing an old fence in the best possible manner. The fencing experts at QS Fencing believe that an old fence with peeling paint and breaking pickets can dramatically devalue one's property. As a result, it becomes tempting to grab a hammer and get rid of the fence. But acting whimsically can prove to be damaging in such a scenario. In order to avoid any problems in the future, it is necessary to remove the old fence carefully.
"When the weather is looking this good and we all want to be outside, the last thing that you need is the unsightly distraction of a grungy old fence," states the blog by QS Fencing. "Not to mention the devaluation of your beautiful home with peeling paint and broken pickets. Last year the Surrey fencing experts at QS Fencing published an article on 'Highly Useful Tips for Getting Rid of an Old Fence'. We decided to revisit this topic because we've noticed it may be time for some fence repairs and new fencing installations to go up around the neighborhood."
The blog provides 4 useful points to consider before removing an old fence from one's property. The first tip states that the home owner must ensure that they own the fence. This could save legal and reputational costs. The second tip advises the readers to talk to their neighbors and reach a mutual settlement. The third tip states that one should be careful with the utility lines and the fourth one advises to hire a professional to install a new fence properly.
About QS Fencing
Established in 2010, QS Fencing is a young family-owned business that aims to provide quality products and superior service. It is a Vancouver Fencing Company that is licensed and insured. All their employees are WCB insured as well. QS Fencing serves the geographical areas of Vancouver, West Vancouver, North Vancouver, Burnaby, New Westminster, Coquitlam, Port Coquitlam, Port Moody, Maple Ridge, Richmond, Surrey, and Delta, BC.
To place an order at QS Fencing, visit http://www.qsfencing.ca or call (604) 345-5145.