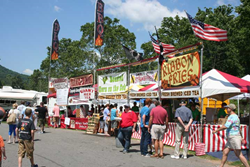 We want to use our passion for BBQ to help others
Geneva, NY (PRWEB) July 30, 2015
Finger Lakes Fire and Smoke, a premier BBQ Festival & Competition, is coming to the Finger Lakes. The inaugural event will be held September 4, 5 & 6 (Labor Day Weekend), 2015, at the Geneva Lake Front Park, in Geneva N.Y.
Teams from throughout the United States and Canada will gather on the shores of beautiful Seneca Lake to cook some of the best BBQ in the world. The competition is certified by the Kansas City Barbeque Society(KCBS) and the New England Barbeque Society(NEBS).
Cash prizes and trophies are at stake. Teams will also be vying for a chance to compete in the Jack Daniels World Championship Invitational and the Kansas City Royal Invitational, two of the most prestigious BBQ competitions in the world.
In addition to the great BBQ, visitors will also enjoy vaious vendors and live music by The DILF Band, Alysssa Trahan, The Dean's List and Wild Ride. Visitors will also have an opportunity to vote in the "People's Choice" chicken wing competition on Friday and a "People's Choice" rib competition on Sunday. A "People's Choice" car show on Sunday will round out the full weekend of festivities.
Gates open Friday at 5:00 PM, Saturday at 10:00 AM and Sunday at 11:00 AM. Entry fee is $5 per person.
Finger Lakes Fire & Smoke will be hosted by Rikk Foringer, an internationally recognized BBQ Competitor who lives in Shortsville. His team, the Shortsville Smokers, has been competing for five years, and is the 2012 Grand Champion at Brockport and has many top 10 finishes in all categories at competitions in the United States and Canada.
"We want to use our passion for BBQ to help others" said Foringer, "We plan to use this event to fund scholarships at two local colleges." This year's proceeds will fund an ongoing scholarship for single mothers pursuing nursing at Finger Lakes Community College.
Sponsors include: JD Chapman Insurance, The DILF Band, Everdyke Septic, Cardinal Disposal, Road Service, Inc., The Pancoast Concern, Ltd.
For more Information visit http://www.fingerlakesfireandsmoke.com or call Rikk Foringer at 585-402-3508.