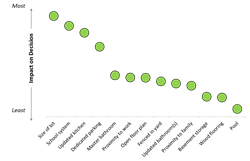 Philadelphia, PA (PRWEB) July 30, 2015
TRC Market Research (http://www.trchome.com), a new product research company specializing in conjoint analysis, announced today the results of a quantitative study conducted among its 197 panel members who were recent and soon-to-be homebuyers. The study employed TRC's proprietary tool Bracket™ to find out what homebuyers consider most important when buying a home. The study excluded the basic house stats such as number of bedroom(s), bathroom(s), price, house style and condition. The study focused on 13 less quantifiable benefits such as size of lot or school system that also play an important role in the purchase decision. Bracket™ is a tournament-based analytical approach to understanding priorities. For each respondent, the tool randomly assigns the items being evaluated into pairs. Participants then choose the preferred attribute from each pair; that attribute moves on to the next round. This process continues until only one 'ultimate winner' remains. By combining the choices made by a series of participants the tool is able to not only rank the attributes but identify how much better each attribute is than the next ranked one.
The study tested a total of 13 benefits that one might consider when searching for a new house: proximity to work, proximity to family, school system, lot size, fenced-in yard, dedicated parking (i.e. garage, drive-way, parking spot), basement storage, wood flooring, open floor plan, updated kitchen, updated bathroom(s), master bedroom and pool.
The study revealed that lot size, school system, updated kitchen and dedicated parking were given high consideration when buying a home. Conversely open floor plan and wood flooring were given less consideration.
About TRC Market Research, a new product development research firm:
TRC Market Research is a new product research and analytics firm that pairs customized solutions with senior-level attention to help solve business problems. TRC provides expertise in designing and implementing successful brand research, pricing research, business-to-business market research, market segmentation and satisfaction and loyalty research.
Philadelphia-based TRC Market Research is affiliated with CASRO, ESOMAR and the American Marketing Association.