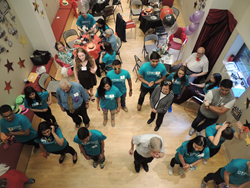 Add a quotable"This is the first DOROT event I've been to and it was great! Sign me up for the rest of the programs!
New York, NY (PRWEB) July 30, 2015
On July 15, 2015, DOROT hosted a Senior Prom with support from Goldman Sachs. Fourteen older New Yorkers and nineteen Goldman Sachs summer interns attended the event. This year's prom theme was Vintage Hollywood and was planned by DOROT's summer college interns.
Upon arrival, seniors were greeted by interns and given corsages and party favors. Everyone enjoyed lunch, took pictures in a photo booth, and danced to songs like "Only You" by the Platters and "New York, New York" by Frank Sinatra in the decked-out auditorium at DOROT's Upper West Side headquarters. At the end of the event, interns distributed superlatives and guests took home their own commemorative photos in frames.
"I loved listening to the seniors' perspectives on life and what they had been through," said one Goldman Sachs intern. "This is a fantastic organization. DOROT cares and shows effort to the maximum level."
"It's been a year since I have visited my family," said another Goldman Sachs intern, "and I felt like I was with family."
DOROT's Senior Prom is highly anticipated by guests, who enjoy the opportunity to mingle with peers, meet new people, dance, and spend time outside of their apartments. Prom guests commonly participate in other DOROT programs, including Holiday Package Deliveries, Wellness Classes, University Without Walls, and the celebrated Thanksgiving Banquet.
One senior told DOROT staff, "This is the first DOROT event I've been to and it was great! Sign me up for the rest of the programs!"
DOROT's mission is to alleviate social isolation among the elderly and provide services to help them live independently as valued members of the community. DOROT serves the Jewish and wider community, bringing the generations together in a mutually beneficial partnership of elders, volunteers and professionals. For more information about DOROT and its mission, visit http://www.dorotusa.org.