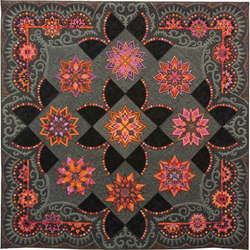 Syracuse, New York (PRWEB) July 29, 2015
American Quilter's Society, the largest quilting membership organization in the world, is pleased to announce the winners of the AQS Quilt Contest. Over $50,000 in prizes will be awarded to the winners at AQS QuiltWeek - Syracuse, New York, taking place from July 29 through August 1, at The Oncenter, 800 South State Street, Syracuse, NY 13202.
As part of the American Quilter's Society's celebration of quilting excellence, the contest recognizes the skill and creativity of today's quiltmakers. Artists compete in the AQS Quilt Contest for more than $50,000 in cash awards. Entries come from around the world to compete in fourteen different categories.
This year's winners come from five different countries and twenty different states. Three of this year's winning quilts are from the host state of New York. These winning quilts will astound the 15,000 quilters expected to visit AQS QuiltWeek® in Syracuse, New York, this week.
The AQS Quilt Contest Prizewinners are as follows:
Best of Show Award
#227 STARS ON MARS, Gail Stepanek and Jan Hutchison, New Lenox, Illinois
Best Wall Quilt Award
#511 REBORN, Molly Hamilton-McNally, Tehachapi, California
Best Use of Color Award
#411 STARRY OCEAN—FOR MOTHER HUMPBACK WHALES, So Young Chung, Yong-in Si, Kyungki-Do, South Korea
Best Original Design Award
#619 SONG OF THE SEA, Kathy McNeil, Tulalip, Washington
Best Hand Quilted Award
#315 HADASSAH, Audra Rasnake, Meadowview, Virginia
Best Home Machine Quilted Award
#116 VIVALDI BY MOONLIGHT, Sandra Leichner, Albany, Oregon
Best Longarm Machine Quilted Award
#208 LET'S DO THE DRESDEN TWIST, Teri Cherne, Henniker, New Hampshire
Large Quilts – Home Machine Quilted
First #122 NO L, Janet Stone, Overland Park, Kansas
Second #115 RED AND BLACK ILLUSION, Keiko Ike, Kochi, Japan
Third #108 HURRICANE, Janneke de Vries-Bodzinga, Kollumerzwaag, Friesland, Netherlands
Hon. Mention #109 FUNKY GARDEN ON RED, Janet A. Elia, Taunton, Massachusetts
Large Quilts – Longarm Machine Quilted
First #201 EXUBERANCE, Marilyn Badger, St. George, Utah
Second #231 TINK'S CHOICE, Laura Trenbeath, Fishersville, Virginia
Third #218 BODACIOUS, Claudia Clark Myers, Duluth, Minnesota
Hon. Mention #220 BYRNE'S SPIRAL, Beth Nufer and Clem Buzick, Brookings, Oregon
Hand Quilted Quilts
First #302 TULIP SERENADE, Barbara Clem, Rockford, Illinois
Second #308 LADIES OF THE SEA, Peggy Green, Sparta, Tennessee
Third #306 PERSIAN PANOPLY, Jan Frazer, Elwood, Victoria, Australia
Hon. Mention #309 INVERARAY, A TRUE SCOTTISH TREASURE, Antonia Hering, Hoorn, Noord-Holland, Netherlands
Wall Quilts – Home Machine Quilted
First #440 A LETTER BIT OF BAALTIMORE, Janet Stone, Overland Park, Kansas
Second #401 ROBBER'S ROOST, Joanne Baeth, Bonanza, Oregon
Third #445 HARMONY'S LOOP, Suzy Webster, Apple Valley, Minnesota
Hon. Mention #414 MUSIC OF THE NIGHT, Diane J. Evans, Schenectady, New York
Wall Quilts – Longarm Machine Quilted
First #510 FROM THE BRIDE'S TROUSSEAU, Margaret Solomon Gunn, Gorham, Maine
Second #514 OCTOBER SKY, Bethanne Nemesh, Allentown, Pennsylvania
Third #522 MY PRAIRIE FLOWERS ENCORE, Marjorie West, Tully, New York
Hon. Mention #501 LIZARDS IN THE SUNSHINE, Karen Atkinson, Henderson, Nevada
Wall Quilts – Whimsical
First #625 SO MUCH LIFE IN A TINY SEED, Sharon L. Schlotzhauer, Monument, Colorado
Second #603 PETALS IN THE WIND, Cassandra Ireland Beaver, Urbana, Ohio
Third #615 JEWEL BOX BEETLE, Sue Holdaway-Heys, Ann Arbor, Michigan
Hon. Mention #622 DOODLE BIRD 2, Joanie Zeier Poole and Pam Levenhagen, Sun Prairie, Wisconsin
Wall Quilts – Fiber Art
First #727 LE JARDIN JOYEUX, Christine Wickert, Penfield, New York
Second #722 THE MESSENGER, Marlene Shea, Wethersfield, Connecticut
Third #708 THE BEET GOES ON, Laura Fogg, Ukiah, California
Hon. Mention #703 WOOL WORKS, Jan Berg-Rezmer, Gladwin, Michigan
All of the winning quilts, as well as the semi-finalist works, will be on display at The Oncenter for the remainder of the week. In addition, AQS QuiltWeek will be hosting a number of other special exhibits, workshops with some of the top talent in the quilt industry, and an extensive merchant mall comprised of both local and national vendors.
Admission to AQS QuiltWeek is $14 per day and tickets can be purchased at the door. Multi-day tickets are also available. Hours are Wednesday, July 29, through Friday, July 31, from 9:00 a.m. to 6:00 p.m., and Saturday, August 1, from 9:00 a.m. to 5:00 p.m. Ticket and additional information can be found at QuiltWeek.com or by calling 1-270-898-7903.
About the American Quilter's Society
The American Quilter's Society is the largest quilting membership organization in the world. For more than 30 years, AQS has been the leading voice in quilting inspiration and advice, through a broad suite of products—magazines, books, live events, contests, workshops, online networks, patterns, fabric, and catalogs. At AQS, we believe that with inspiration and advice, the creatively-minded individual can take their quilting projects beyond what even they had imagined. The leading authors in quilting choose to publish with AQS; the best in quilt artistry select AQS events to display their work; the newest quilters learn from the knowledge and inspiration of AQS members. For more information on the American Quilter's Society, please visit http://www.americanquilter.com or call 1-270-898-7903.