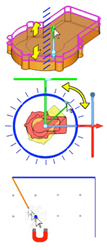 The new snap increment functionality in CAD is going to save a lot of everyday programmers valuable time and money.
Clearwater, Florida (PRWEB) July 30, 2015
BobCAD-CAM, Inc. includes dynamic drawing snap increment functionality with the company's new Version 28 CAD-CAM software release. The feature is available as a standard CAD tool with new BobCAD-CAM V28 purchases and upgrades.
Dynamic Drawing with Snap Increments
All dynamic drawing functions in BobCAD-CAM now include the new snap increment function, which acts as a uniform grid in the CAD design workspace. This allows the user to define a snap increment based on distances or angles. This feature, which can be turned on & off, was created to speed up the drawing process for users that prefer to work on a grid style workspace when creating their 2D & 3D part models. It effectively reduces the number of clicks and data entry modifications typically required in a grid-less CAD system to allow for greater design workflow capabilities.
"The new snap increment functionality in CAD is going to save a lot of everyday programmers valuable time and money," explains Al DePoalo, Partner Products Manager, BobCAD-CAM. "It's a very intuitive feature that really speeds up the geometry creation process. We're getting a lot of great feedback from V28 users on this feature."
The New BobCAD-CAM Software
In addition to snap increment functionality, the company also developed a wide variety of other features, including smarter hole making systems, better surfacing toolpaths, support for custom & specialty tool types, improved simulation, and more. BobCAD-CAM also debuted the company's first Mill Turn product that supports CNC mill turn / multitasking machines.
All together, the Version 28 software series and Mill Turn module launch is one of the company's most significant product releases in their 30-year history.
Availability
Demos of the new Version 28 and Mill Turn module are available now for immediate download from BobCAD.com. The software can also be purchased from company's product page BobCAD.com/cad-cam-software-products/. For more detailed information about V28 product features, visit http://bobcad.com/products/the-new-bobcad-cam-v28-cnc-cad-cam-programming-software/ or call 877-262-2231 or 727-442-3554 to speak with a BobCAD-CAM representative.
About BobCAD-CAM, Inc.
Clearwater, FL | http://www.BobCAD.com
For 30 years, BobCAD-CAM has been dedicated to designing powerful, user-friendly and affordable CAD-CAM software. BobCAD-CAM products are used in CNC machine shops and schools all over the world - helping to automate the programming process for mill, mill turn, lathe, router, plasma, laser, waterjet, and wire EDM CNC machines. The company also offers solutions for CAD, artistic CAD, nesting, solid machine simulation, custom post processors, comprehensive training, and support packages.
Press Contact: Chris Corbell | BobCAD-CAM | chris(at)bobcad(dot)com | 877-262-2231