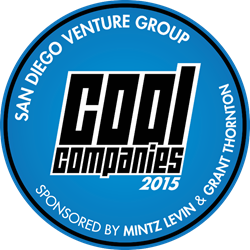 "I've never seen an EdTech company grow so fast. Peachjar has a unique solution with enormous potential." Mike Krenn, president of San Diego Venture Group
San Diego, Calif. (PRWEB) July 30, 2015
Peachjar, the leading digital flyer management system for schools, was named one of San Diego Venture Group's Cool Companies. The award recognizes growing San Diego technology companies that provide innovative products and services. Peachjar was selected from a group of over 160 candidates.
"I've never seen an EdTech company grow so fast," stated Mike Krenn, president of San Diego Venture Group. "Peachjar has a unique solution with enormous potential. They represent San Diego innovation at its best."
Peachjar will join other Cool Companies at the Annual Venture Summit where CEO's will have the opportunity to present to a large group of venture capitalists. Past Cool Companies have included successful ventures such as MOGL, Take Lessons, Embarke and EcoATM.
"We are honored to be named one of San Diego's Cool Companies," stated Mike Durham, Founder & CEO of Peachjar. "Peachjar is revolutionizing the way parents receive information from their school, and we're excited to see this system being embraced by millions of parents across the U.S. and Canada."
About Peachjar:
Peachjar was founded in 2011 in response to the billions of paper flyers being carried home from schools each year in children's backpacks. The company has helped schools across North America improve their school-to-home communication by delivering eflyers directly to parents. Check out Peachjar's one-minute animatic to learn more