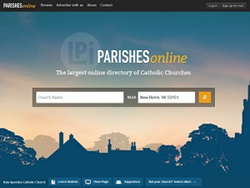 "At LPi, our mission is to help build vibrant parishes."
New Berlin, WI (PRWEB) August 11, 2015
Liturgical Publications, Inc. (LPi) is pleased to announce the merger of two online directories of Catholic Churches in the US, Parishes Online and Seek And Find. These two sites have been for many years helping church parishioners find a church wherever they may be, determine Mass times, and read their church bulletins online. Now, these two websites, under the name Parishes Online, have joined together in what is the largest and most updated online directory of Catholic churches in the United States.
The new website, http://www.parishesonline.com, makes it simple to find a church, Mass times, and the bulletin. In our increasingly connected, mobile world, Parishes Online works seamlessly on all mobile platforms, tablets, PCs and Macs.
This free service is available to all Catholic churches, parishioners, and the general public. Catholic Churches can maintain their own information with their Mass times and bulletins or have LPi do it for them.
Joe Luedtke, LPi's Chief Operating Officer stated: "At LPi, our mission is to help build vibrant parishes. Ensuring that the general public can easily find a Catholic church and Mass times is one small step in that direction." Some parishes may lack the funding or staff to create or maintain mobile, inter-connected websites. According to Luedtke, Parishes Online offers a valuable service for Catholic parishes all across the country. "Our database of all Catholic Churches in the US and the bulletins of our 4000 churches we print for are available to all."
Catholic churches can easily take ownership of their listing page on Parishes Online, upload their bulletin, or have LPi do it for them – all for free – Parishes Online is made possible through the business sponsors for all our parishes around the country that support their parish community through their church bulletin.
Churches interested in learning more about Parishes Online are welcome to contact LPi by phone at (800) 950-9952 or online by visiting http://www.parishesonline.com. To learn more about LPi, visit http://www.4lpi.com.
About Liturgical Publications, Inc. (LPi)
Liturgical Publications is a stewardship communication company that serves as a single source for products and services that help create more vibrant Catholic faith communities. LPi offers engagement tools for parishes that include ad-supported church bulletins, websites and newsletters, as well as solutions for digital engagement, including online giving and mobile phone applications. Recently LPi introduced a line of consulting offerings including a sustainable offertory campaign, stewardship workshops and retreats.