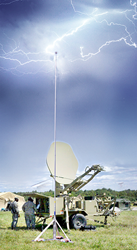 We have options that allow for transport by nearly any means, including man pack, small planes, helicopters or even a small compartment in a satcomm trailer
Greenville, NC (PRWEB) July 31, 2015
LBA Technology, Inc. (LBA), a unit of LBA Group, Inc., announced that the U.S. Patent Office has granted a patent for a line of portable lightning masts designed, manufactured and marketed by LBA. These unique lightning masts, LBA's PLP-series, offer effective, portable lightning protection. The PLP-Series is the first in the market to offer such functionality.
Its unique design allows an option for a specialized high mobility fly-away kit. These kits are extraordinarily portable with a case for one-person carry. The PLP-Series can be easily set up by two people in under an hour, yet will withstand wind in excess of 100 mph.
The PLP-series is also available in fixed base and non-penetrating roof mount configurations, as well as multiple mast catenary systems to 38 feet high.
These systems provide excellent options for lightning protection in mission critical situations where transportation, set-up and re-deployment are required and the protection of assets is paramount. Using lightning dissipation technology, the masts are designed to divert a large percentage of potential strokes, while complying with National Fire Protection Association standards for mast terminals.
Uses include providing protection for portable satellite systems, communication systems, ground mounted utility equipment, solar arrays, oil production, ammo, flammable storage sites, rooftop assets, and depot environments of various types. Various models of the PLP-series are in use by the U.S. Army, Lockheed Martin, Raytheon, the oil industry, water authorities, and more.
"The LBA design team has been able to accomplish the creation of a very unique product and we are pleased this has been recognized with the granting of this patent," LBA Business Development Specialist Byron Johnson said.
"We have options that allow for transport by nearly any means, including man pack, small planes, helicopters or even a small compartment in a satcomm trailer," Johnson added.
For more information on the patented PLP-Series and the wide variety of lightning protection solutions offered by LBA, visit http://www.lbagroup.com/products/lightning-protection-systems-for-towers-antennas-and-structures, or contact Byron Johnson, at Byron.johnson(at)lbagroup(dot)com, 252-757-0279.
Keep up with what's going on at LBA by following the company on Facebook at: https://www.facebook.com/LBAGroup.
About LBA Group Inc.
LBA Group, Inc. has 50 years of experience in providing electromagnetic protection for industrial and telecommunications infrastructure assets. It is comprised of LBA Technology, Inc., a leading manufacturer and integrator of radio frequency systems, lightning protection, and EMC equipment for broadcast, industrial, and government users worldwide; the professional technical consultancy Lawrence Behr Associates, Inc.; and LBA University, Inc. providing on-site and online professional training. The companies are based in Greenville, N.C., USA.