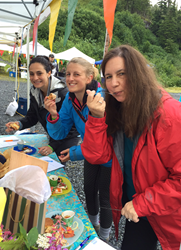 Cordova, Alaska (PRWEB) August 01, 2015
Writers Gina Matsoukas (runningtothekitchen.com), Ayla Wilt (gourmetgirlcooks.com), Michelle Baxter (therunnersplate.com) and Savannah Wishart (primalrevolutions.com) plunged into their Copper River Salmon experience with a tour of the Miles Lake sonar fish counting station and the surrounding pristine salmon habitat. Events to follow included a hike to view spawning salmon with a local naturalist, a fishing trip in Prince William Sound, touring a local fish processor, climbed aboard a gillnetter with a local fisherman and judging a local food competition at the Copper River Wild! Salmon festival.
The writers gained a body of knowledge about the Copper River salmon fishery. They watched a fillet demonstration of a sparkling, freshly-caught Copper River sockeye salmon and enjoyed the flavors of freshly grilled catch with the sonar crew. They learned how the Alaska Department of Fish and Game uses tools to manage the fishery for continued sustainability. They saw first-hand how fish are processed and packaged, and they ate as much delicious Copper River salmon as they possibly could. The writers couldn't help but feel how this community as a whole is engaged in the annual harvest of this pristine natural resource.
A highlight for all was getting to know local fishermen. As these fishermen spoke about their craft, the writers not only learned about how the fishery operated, but could also see the love and pride that these fishing experts put into their work. It was evident to them that this integrity translates to a very high quality product and a robust community.
The writers left Cordova with new perspectives on the source of their salmon. Ayla, who has been buying and cooking Copper River Salmon for several years in Atlanta, Georgia, "I think the most amazing thing to me is all that's involved in how Copper River salmon gets from [Cordova] to my table. I had no idea there was so much science behind it, so much work and labor." All of the other writers echoed with similar statements about the care and effort for the fish, community pride, and love for the fishery that they found evident throughout their time in Cordova. It was a wonderful week celebrating Copper River salmon for all.
Christa Hoover
Interim Executive Director
Copper River/ Prince William Sound Marketing Association
http://www.copperriversalmon.org | http://www.soundsalmon.org
907.424.3459