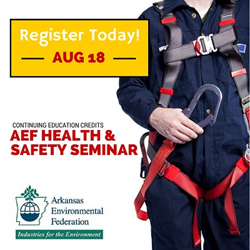 Little Rock, Arkansas (PRWEB) August 03, 2015
The Arkansas Environmental Federation (AEF) is holding their annual Health and Safety Seminar in Little Rock, Arkansas at the Arkansas Electric Cooperative Corporation on August 18th. Trena Adair, Principal of Harbor Environmental and Safety (Harbor), serves as co-chairman on the AEF's SHE Committee which develops each year's agenda.
When the SHE Committee brainstorms on topics to present each year, Ms. Adair stated that, "The most important thing we can do is focus on education. The challenge each year is to identify the most impactful topics that EHS professionals face to help ensure compliance and safety for employees and ensure the company reduces risk as much as possible. Keeping up with new regulations and standards is a daunting task for most professionals. A prime example is the recently revised Process Safety Management (PSM) memo effective July 22, 2015, which significantly expands the applicability of the rule. The AEF offers their members not only continuing education, such as this annual seminar, but also current communication of these types of changes and a community of professionals to discuss the implications."
This year's seminar focuses on recent OSHA updates, Post-Offer Pre-Employment Screening, Liability Exposure, Industrial Hygiene and OSHA's top citations, Fall Protection. Charles Miller, Executive Director at AEF stated, "The AEF focuses on driving practical, common-sense laws and regulations based on sound science; a teamwork approach to compliance; and waste minimization and pollution prevention. Our primary objective is to help bridge the gap of ensuring information is exchanged on a daily basis between its members, government regulators, and policy makers. We encourage all industries and businesses within Arkansas to explore joining the AEF. Benefits include representation in the Arkansas Legislature, advance notice of proposed regulatory changes affecting businesses, ability to participate in developing reasonable regulations and many more opportunities to keep abreast of current issues EHS professionals continuously face."
Visit the AEF website, http://www.environmentark.org, for registration, or call them directly at 501-374-0263.
The Arkansas Environmental Federation, founded in 1967, is a 501c(3) non-profit education association in Little Rock, Arkansas with more than 250 members with the vast majority them businesses and industries that deal with environmental, safety, and health regulations on a day-to-day basis.
Harbor Environmental and Safety is a full service environmental, safety and engineering consulting firm headquartered in Little Rock, Arkansas. Harbor is a certified woman-owned and certified disadvantaged business enterprise that has served clients both nationally and internationally. Specializing in turnkey compliance management systems, Harbor affords our clients the ability to focus on their business goals and maintain a commitment to the environment and the health and safety of their employees.
Link to OSHA PSM full letter of interpretation: https://www.osha.gov/pls/oshaweb/owadisp.show_document?p_table=INTERPRETATIONS&p_id=29528