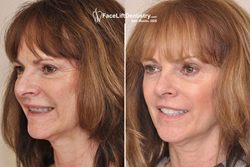 "Face Lift Dentistry® is more than just fillings and veneers. It's a non-surgical no-grind approach that has ushered in The New Age of Dentistry." – Dr. Sam Muslin
Los Angeles, CA (PRWEB) August 04, 2015
Prominent West Coast dentist Dr. Sam Muslin, the developer of the non-invasive Anti-Aging Face Lift Dentistry® method and VENLAY® Restorations says he is not surprised by the attention he is getting from both peers and patients who are seeking non-invasive alternatives to treat bite and profile correction.
"Today's consumers want timely relief and long term health benefits. They deserve more finesse than just slapping on veneers," says Dr. Muslin.
"Dental professionals, who have changed with the times, recognize that the patient is more than just a mouth with teeth. Patients have done their research, and they want their health back."
"Face Lift Dentistry® has revolutionized how we treat patients," says Dr. Muslin, who has been in the field of dentistry for more than 35 years. "It's a non-surgical, no-grind, health-centric approach ushering in a new age of non-invasive dentistry in order to correct bites and optimize faces."
"Savvy baby boomers and millennials don't want braces, face lifts, injections, their jaws broken, or an unnatural look," explains Dr. Muslin. "They don't want their teeth ground to nubs either. Consumers want timely relief and long-lasting health benefits. They want to be able to chew their food, sleep better and feel attractive. This treatment is not just a smile lift with veneers. Face Lift Dentistry® is actually good for your health. It reduces wear on teeth, helps patients speak clearly, and addresses jaw pain. Yes, the smile is improved, but more importantly, the patient feels better physically and emotionally."
During client consultation, Dr. Muslin evaluates face shape, speech, profile and bite mechanics, using complex motion tomography. He checks for decay and irregular chewing. He studies the skin for wrinkles and loss of underlying support. Infection, gum disease and bone loss are addressed first, and then bite correction is implemented. Old fillings, mismatched veneers and crowns are replaced, using VENLAY® Restorations that protect natural teeth, support the jaw, and create a cohesive smile.
"Anti-aging Face Lift Dentistry® has transformed the lives of many people," says Dr. Muslin, who pioneered non-surgical bite and profile correction. "My patients can have their bad bites corrected, giving them a better profile and a younger look without a scalpel in sight. Necklines and chins look better, headaches go away, and self-confidence improves." Treatment could be completed in less than 2 weeks, often without drilling or grinding down healthy teeth.
Consumers are so interested in Face-lift Dentistry® that Dr. Muslin's website (http://www.faceliftdentistry.com) scores more than 1,000 visitors daily who are searching for a solution to bite related problems each. Patient's video testimonials on YouTube has already attracted more than 300,000 views. Patients fly in from out of state and as far away as Toronto, London, Paris, Singapore and Australia – all to consult with Dr. Muslin, currently the only provider of the face Lift Dentistry® method.
The demand is so high that Dr. Muslin has announced the launch of The Face Lift Dentistry® Academy. Qualified and experienced dentists may register for consideration for this exclusive continuing education opportunity by filling out the online Face Lift Dentistry® training contact form.
To read more about Dr. Sam Muslin's dentistry and to see case study photos, visit his Face Lift Dentistry® website (http://www.faceliftdentistry.com) or his YouTube channel. For consultation, call (310) 829-6796.