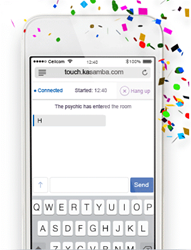 The user-friendly mobile psychic chat interface makes it fast and easy to search and find the right psychic
New York, NY (PRWEB) August 04, 2015
A first in the industry, Mobile Psychic Chat provides clients the intimate and uninterrupted experience they have when instant messaging with their friends and family. Available on all smartphones, it offers a 100% private, real-time psychic chat experience anytime, anywhere.
Not only is mobile instant messaging the most popular way to communicate in today's world, but it is also fast becoming the future of online business. With its new mobile product, Kasamba is now leading the mobile revolution in the psychic industry. This is a cause for cheer as it makes psychic guidance available around the clock and convenient to get. For those who never got a psychic advice before, this product promises novelty - Spirituality that uses technology, anytime, anywhere.
"We created Mobile Chat because we wanted our clients to have access to psychics at all times, in the chat format they use daily and feel comfortable with," says Ohad Kedar, product leader at Kasamba. "We designed it to help our clients find the psychic connection they are looking for, the moment they want it. Having this kind of immediate access makes the connection meaningful and that's what we care about - Creating meaningful connections."
Using Kasamba's Mobile Psychic Chat, clients can access psychics and start live chat right away. There is no waiting. Whether they need advice before a big job interview, or they are on the way to a date with their twin flame, they can get the advice they are looking for, instantly, privately, and anonymously. They see what their psychic types character by character in real-time. Plus, they can save chat transcripts to refer back to them later.
All clients, new and existing, get 3 free minutes when they connect with a psychic advisor for the first time. This offer is unlimited - Clients can try as many psychics as they need until they find the right match for their needs. The user-friendly mobile psychic chat interface makes it fast and easy to search and find the right psychic. You can go to: touch.kasamba.com on your mobile today to experience the brand new Kasamba Mobile Psychic Chat.
About Kasamba.
Founded in 1999, Kasamba.com is a leading provider of online psychic services. With over 3 million users, 94% high ratings, and thousands of psychic advisors available 24/7, it is the world's largest and most popular platform for live psychic advice and is the house of some of the best and most established psychic advisors in the world.
Advisors on Kasamba offer readings and guidance in all psychic categories, including love & relationships, western astrology, Vedic astrology, dream analysis, tarot, paranormal, mediumship, pet psychics, aura, fortune telling and more.
Kasamba.com is part of LivePerson (Nasdaq: LPSN), an American technology company with offices in New York, San Francisco, Melbourne, Amsterdam, Paris and Milan. The company employs 1,000 full-time employees, including the Kasamba team.